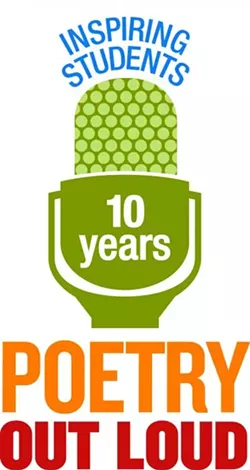 Poetry Out Loud, the annual, national poetry recitation competition, is looking for Washington classrooms to participate in its 2014-15 program. The deadline to apply for this year's program is Nov. 20.
Pioneered in 2006, Poetry Out Loud provides a venue for students in grades 9-12 grade to hone their memorization and public speaking skills, in addition to possibly securing money for their school. Sponsored by the National Endowment for the Arts, Poetry Out Loud 2015 is the 10th iteration of the event.
The competition begins in the classroom, with students then advancing on to school-wide, regional and state-wide finals. Winners from each state receive $200 cash and a berth to the national finals in Washington D.C. Additionally, winning the state competition guarantees the champion's home school $500 for poetry materials.
Any high school may register to compete in the event, but to do so, schools must have at least two to three teachers who implement the classroom segment of the competition before school-wide competition begins in January. State finals take place in March, and nationals are to be held April 27-29, 2015.
Washington state has taken home national honors for Poetry Out Loud over the past few years. Mead High School alum Langston Ward attended nationals as Washington state's representative two years in a row, bringing home $20,000 and first place honors in 2013. More recently, Kennewick's Kamiakin High School senior Elizabeth Mo placed in the top 10 for national finalists for 2014.
In all, almost 23,000 students participated in Poetry Out Loud competitions last year, according to the Washington State Arts Commission website. One of the six regional finals in the state will be held at Eastern Washington University, an official partner of the Washington State Arts Commission and Poetry Out Loud.