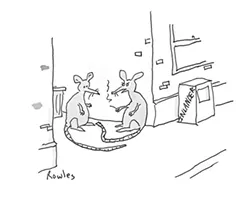 Last week's cartoon (pictured right) stirred up a couple of themes: Several readers referenced the downtown bus Plaza (rats apparently need rides), a few took shots at the
Spokesman-Review
on our behalf (not that we'd ever condone such a thing) and others riffed on legal cannabis.
Paul Secrest also caught our attention again. Two weeks ago, he had our
favorite caption
and again last week, he was at the top of our list, with: "'I Saw You'" is fun to read, but never respond. You'll only meet a bunch of creeps & vermin."
Another favorite:
"You are right, Vern.
The Inlander
paper does roll better & hold more content than the
S-R
." — Jerry Mcginn
And this week's subjectively chosen winner...
"Hickory dickory doc, my ass. That clock tower is too damn high." — Samantha Kam
For this week's caption contest, below is another work by Dave Rowles. Leave your caption in the comments section: