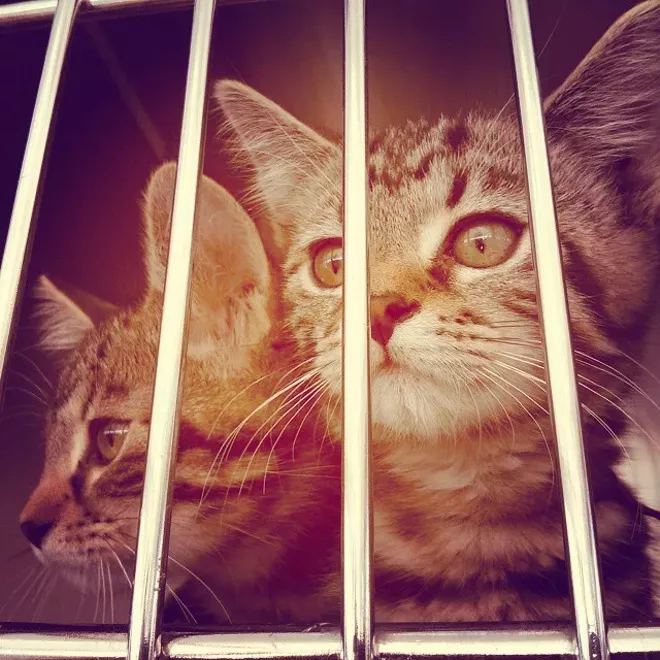 Staff at the Spokane Humane Society have, out of caution, instituted a two-week quarantine of the shelter's facilities after parvovirus and feline distemper were positively identified in two animals there.
The highly contagious and often deadly viruses have increasingly been noticed by staff in animals surrendered to the shelter in recent weeks. As such, Spokane Humane Society Executive Director Dave Richardson is urging the public to vaccinate their pets against the preventable diseases.
He expects the shelter could remain closed to the public — affecting all adoptions and intakes — until Nov. 1.
A 1-year-old dog recently tested positive for parvo, while a 5-month-old kitten was found to have contracted feline distemper. No other animals so far seem to have contracted either virus, Richardson says, but closing the shelter to the public allows for staff to prevent further spread of both diseases.
While the quarantine is in effect, shelter staff are closely monitoring the health of the 142 animals in its care, as well as working to thoroughly disinfect the facility.
"Fortunately or unfortunately, the sanitation measures we do address both [parvo and feline distemper]," Richardson says. "We are definitely concerned about the animals, and that is our number one focus right now."
Dogs and cats cared for by SHS are vaccinated against both viruses as they come into the shelter's care, which means those animals should be protected.
Parvovirus rapidly attacks the white blood cells and intestinal tract. Puppies are often at the highest risk because the vaccination series against parvo isn't administered until 6-8 weeks of age, followed by four-week boosters until 16-20 weeks and again at one year.
Feline distemper, or the feline panleukopenia virus (FPV), is also incredibly contagious and life-threatening. It attacks cats' bodies in a similar manner as parvo, and while the two are related viruses, neither can be transmitted to humans or between other species. Again, kittens are at the highest risk before vaccination age of around six weeks.
Richardson says the parvovirus is "everywhere," meaning all dogs are at risk of exposure in any public place. Thus he stresses the importance of making sure dogs are up to date on their vaccines. People with young puppies that haven't completed the full vaccine regimen shouldn't be taking their dogs to public areas, like dog parks, where the disease can be easily spread through feces. Since parvo has been identified at the shelter, that means it's spreading elsewhere in the community, Richardson cautions.
"We're definitely screaming vaccinate, vaccinate, vaccinate," he says. "Vaccines are so simple, and it goes beyond the value of just your own pets."
Anyone who's adopted a pet from the Spokane Humane Society on or after Sept. 29 is being asked to closely monitor their animals for any symptoms of the viruses. The shelter encourages owners of pets adopted during that time to be examined by a veterinarian for the remote chance they could have been exposed to parvo or feline distemper while at the shelter. Both viruses can survive for an extended period on many surfaces, even in the cleanest conditions.
Both viruses cause similar symptoms, like vomiting, loss of appetite, dehydration, lethargy, depression, diarrhea or discolored, odd-smelling feces.
This is the first time the Spokane Humane Society has voluntarily enacted a quarantine at the shelter, although both viruses have been identified and successfully contained in past incidents.
"We work hard to keep things clean and not overcrowded, and that helps the overall health of the herd. We're just defaulting in the favor of safety," Richardson says.
For anyone looking to surrender an animal during the quarantine period, SHS has put together a brochure on alternative re-homing methods.
As staff work to fully disinfect the building and the animal enclosures, Richardson says those interested in helping can donate bleach, long-handled scrub brushes and rubber shoe booties. While the shelter remains closed to the public and volunteers, he adds there are some dogs available for adoption at SHS's Everyday Adoption Center inside PetSmart at the Northpointe Plaza.
Disclosure: The author, Chey Scott, is an active volunteer at the Spokane Humane Society.