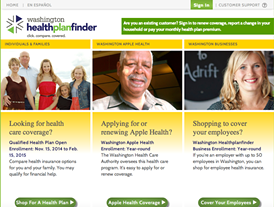 The second open enrollment period for health insurance plans under the Affordable Care Act begins tomorrow. Starting at 8 am on Saturday, Washington customers can log onto the state's online marketplace,
wahealthplanfinder.org
, to shop for or renew their coverage.
(Check out this
refresher
on everything you need to know before enrolling in insurance — or not — including the steeper tax penalties for people who opt out.)
If you find you need help enrolling this weekend, call customer support at 1-855-WAFINDER (1-855-923-4633). For free, in-person assistance, visit the food court at River Park Square Mall in downtown Spokane from 11 am to 3 pm on Saturday and 12 to 4 pm on Sunday, where brokers and navigators will be on deck to take your questions. Follow this
handy check list
for all of the information you'll need when applying for health insurance, including your social security number and income before taxes.
The Washington Health Benefit Exchange hopes to enroll 85,000 more people in private insurance plans by the end of open enrollment on Feb. 15, 2015. Approximately 1.28 million people in Washington state have enrolled in insurance through the Exchange, including more than 140,000 people who purchased bought private policies.