The second open enrollment period for buying health insurance under the Affordable Care Act starts nationwide on November 15. To spread the word,
Washington Health Benefit Exchange
CEO Richard Onizuka and Director of Communications Michael Marchand paid a visit to the
Inlande
r office. Their message: Insure yo'self before you wreck yo'self. Just kidding; they didn't literally say that. But Onizuka and Marchand said the Exchange will have to tailor its message in order to convince those who are still uninsured to sign up for coverage this year.
"One of the things [we want to emphasize] is the idea of affordability. People who sat on the sidelines last year still don't believe they can afford insurance," Marchand says. "That's going to be really important because what a lot of people found was they didn't think they could afford it until they went online and looked."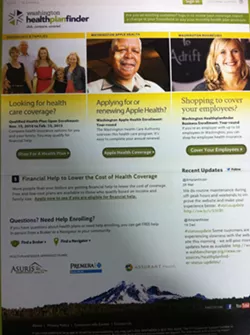 Starting this month, customers who purchased insurance last year on
Washington Heathplanfinder
, the state's online marketplace, will receive letters informing them of the automatic renewal process and any changes to their eligibility for 2015 coverage. Are you considering shopping around for health insurance on the Exchange this year? Here are six things you should know.
1. Customers will have
more options
this time around. The Exchange board approved 82 qualified health plans for purchase on
Washington Heathplanfinder
— almost twice the number of policies that were available last year.
2. The penalty for opting out of insurance coverage is steeper. In 2014, the penalty for being uninsured (unless you're
exempt
from buying insurance) is a flat fee of $95 or 1 percent of taxable income. In 2015, the penalty increases to $325 per adult or 2 percent of taxable income, whichever is greater.
3. You can expect Washington Heathplanfinder to run more smoothly on November 15. Last October, technical glitches forced Exchange officials to
take down the website
shortly after its debut. Onizuka told the
Inlander
that users can expect a smoother experience this year. "The system should obviously be much better equipped this year," he said. "We've been testing it right now to see if we can stress and break it as much as possible before enrollment starts." Five hundred people also will be ready to answer questions at the Exchange's Spokane Valley-based call center. Last year, the center was initially short-staffed with only 140 phone operators.
4. Several universities and community colleges have recently dropped their student health plans, including the University of Washington and Whitworth. Instead, college students can purchase insurance on the Exchange, where they'll likely qualify for free Medicaid or generous tax subsidies. Students also have the option of getting coverage through parents' health insurance plans until their 26th birthday.
5. Don't wait until the last day of enrollment, February 15, 2015, to sign up for insurance. On March 31, the last day of open enrollment in 2014, customers bought 8,000 insurance policies — 5 percent of the Exchange's total number of purchased qualified health plans. The customer call center was inundated with 90,000 phone calls. To avoid last-minute chaos, "shop early and shop often," Marchand says. "Please don't wait."
6. Fewer people lack health insurance since the start of the Affordable Care Act. According to a
recent Gallup poll
, the states that expanded Medicaid and created their own exchanges under ACA were the most successful in reducing their uninsured population. In Washington state,
1.28 million people
enrolled in insurance through the Exchange and the uninsured rate dropped from 16.8 percent in 2013 to 10.7 percent in 2014, the fourth highest reduction in the country.