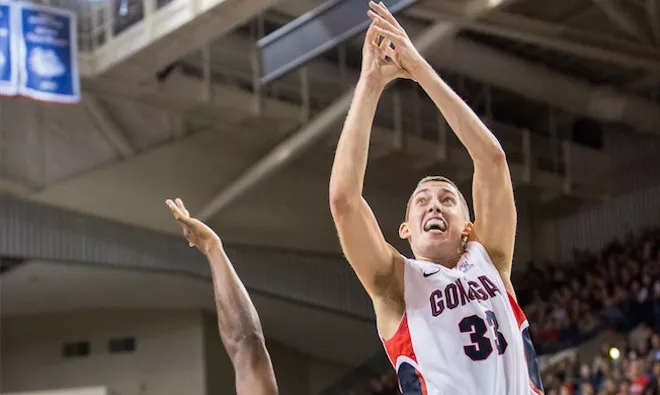 If you're a hardcore Gonzaga basketball fan, you are probably reading this from Las Vegas, where both the men's and women's squads are competing in the West Coast Conference tournament. If you're not in Vegas, let us bring you up to speed.
The Gonzaga women took care of business on Friday against LMU and are playing in a semi-final matchup against BYU
right now
(as in, noon on Monday)
.
The game is on BYUtv, which you can watch from the comfort of your work desk
for free right here
.
The male Zags looked a little shaky on Saturday night. They were down by two at the half to pesky San Francisco but were able to grind out an
81-72 win
, thanks to 24 points from big man Przemek Karnowski and 19 from Kyle Wiltjer.
The Zags are slated to take on Pepperdine (a team
they had some issues with
earlier this season) at
6 pm tonight on ESPN
and it looks like they might have to do it without the help of Wiltjer. The hot-shooting Wiltjer banged up his hip in Saturday night's game and
it's not confirmed if he'll take to the court tonight.
If he doesn't, expect Domantas Sabonis and Karnowski to get the ball early and often. It could also mean that Kevin Pangos will brush back his bangs and go on a scoring tear, something he hasn't had to do much of this season.
EWU WON THE BIG SKY, KINDA
In a season marked with insane comebacks, big upsets and some less-than-consistent scoring, Eastern Washington managed to end the season with at least a share of the Big Sky Conference regular season title.
The Eagles
won an overtime thriller against Weber State
on Saturday, 79-71, behind big performances by their big performers Venky Jois and Tyler Harvey to bring their regular season conference record to 14-4. Then, rather unexpectedly, Sacramento State lost on a last second shot to Northern Arizona, sending the presumptive conference champs all the way down to third place.
Montana took care of Montana State and ended up tied with Eastern for the conference title. And in the Big Sky, that's a big deal because of the conference's antiquated rule that sends the tournament to the school that wins the regular season.
So, Eastern and Montana ended up tied, but the tournament is headed to Missoula this week. Confused? So was I. I mean, Eastern has the better overall record (23-8) and they split their series with Montana, so why is Montana the beneficiary of the tournament? I had to dig, but here's an explanation from
a Big Sky basketball blog.
EWU and Montana both split, which is the first tiebreaker. Then, the next tiebreaker would be the winning percentage against the next collective group. In that case, Montana would be the host, because they went 1-1 against NAU/Sac, while EWU went 1-2 against them. That would give Montana the tiebreaker, and they would host.
So the Eagles are set to play against Idaho on Thursday at 10 am. You can watch on watchbigsky.com. Conventional wisdom says the Eagles need to win the tournament to make their first NCAA appearance since 2004. Here's the bracket: