Welcome back to
Weed Wednesday
, your weekly dose of pot news. Wondering what this is about?
Click.
Looking for our previous marijuana coverage?
Click.
Got a question or tip? Email me at jaket@inlander.com
In case you haven't heard,
there's an election coming up.
One of the positions voters will weigh in on is city council president. Ben Stuckart, who currently holds the position, is being challenged by John Ahern, an 80-year-old former Republican state representative.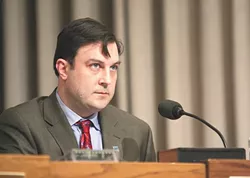 While Ahern says that his central issue is improving the business climate in Spokane, he's repeatedly called for a moratorium on the sale and production of marijuana in Spokane, an idea that Stuckart opposes.
In order to get a better handle on what both candidates think about marijuana, we called up both requesting interviews on the subject. We wanted to give Ahern the first opportunity to lay out his views on weed because he brought it up in the first place, but he never called back. So here is a lightly edited interview with incumbent Council President Ben Stuckart on marijuana.
Inlander:
What do you make of having a moratorium on marijuana?
Stuckart:
I think it's bad for two reasons. I think the first reason is that because it goes against the will of the voters of the city of Spokane. The yes vote [for legalization] in the city was 57 percent. So I think the city of Spokane spoke loud and clear that they would allow the legalization, processing and production of marijuana.
The second reason is because it's a job killer. The research I have done shows that in the city there are 41 businesses with licenses, that economic impact of the sale from July of last year through the end of April was $5.3 million in sales, $1.3 million in excise taxes, $66,639 in local sales taxes.
We called all 41 businesses, and a conservative estimate of seasonal, part-time and full-time employees is 1,500 people. So I think to put a moratorium on it would absolutely hurt our economy immensely and be a job-killer.
You supported I-502, right?
Absolutely. I went to a campaign event with [TV personality and marijuana legalization advocate] Rick Steves and did not hesitate to come out as pro-legalization.
When did you start to think it was a good idea?
I had never really given it any consideration until I-502 was collecting signatures, and I started meeting them and having conversations.
What about those conversations made you think it was a good idea?
The data on the black market makes a lot of sense to me. They talk about how marijuana is a gateway drug, and it's only a gateway drug because when certain drugs are illegal and you have to buy them on the black market, you are buying them from people who are selling illegal products. So if you are buying from a dealer, they may be dealing in other products. It's not because I smoke marijuana and, physiologically, I want to smoke harder drugs, but the black market is causing people to touch base with people that deal with illegal products. Our goal should be to get rid of that black market.
It's not that dangerous of a drug. I think alcohol is a far more dangerous drug.
You used to head a nonprofit working with kids. What do you make of the argument that legalizing marijuana creates permissive atmosphere that trickles down to kids and makes pot more available?
I actually think in a legal environment where you set it up like alcohol, it's more controlled. By creating a successful legal market you can decrease the black market, so you'll have less drug dealers at our schools.
Have you ever smoked marijuana?

Yes.
When is the last time you smoked marijuana?
I can't recall. Since it's been legal I've tried marijuana.
When?
In the last couple months. I thought it was safer smoking marijuana than imbibing in alcohol.
How did you ingest it?
I tried a lozenge and I tried smoking.
Will you do it again?
Socially, yes. At some point I will do it again.
Does the idea of "big marijuana" worry you? Are you worried it will become like big tobacco, a big commercial entity that has a vested interest in getting people to smoke pot?
Maybe some of them will become a problem in the future. but the market is still developing. I've never seen a market develop from scratch like this.
HERE'S THE NEWS ELSEWHERE:
Louisiana is poised to
soften its pot laws.
Federal employees
still can't use marijuana
, even where it's legal.
In Oregon,
lawmakers are struggling with a contradictory aspect of the state's marijuana legalization initiative
: Pot will be legal to consume beginning July 1, but there will be nowhere to legally purchase it.
Get ready for
Game of Thrones-themed weed.
Indiana's First Church of Cannabis has
received tax-exempt status
.
Texas Gov. Greg Abbott will sign a law allowing for the medical use of cannabinol oil to treat epilepsy,
but no one will be able to actually acquire it legally.
The mayor of Boston says
he'll take the lead in opposing marijuana legalization
in the state.
Paul McCartney says he
quit smoking weed
to set a good example for his grandchildren.
Here's a younger and quite possibly stoned McCartney giving an interview: