It could have been a combination of things: the heat, tiredness, perhaps he was hangry. Whatever the reasoning, Tyler, the Creator didn't come out for an encore at last night's Knitting Factory show to the disappointment of his fans.
No artist is required to do anything, and coming back out to do just one more song isn't necessary. Maybe we shouldn't expect it. But seriously? Besides festival shows where there isn't the time, I can't even think of the last time I didn't see an encore for a big show. The rapper was only out on stage for a little over an hour, and last night he left his audience wanting more.
The neon-clothed kids (and these really were kids — there was a row of waiting parents in cars after the show let out) had already lined up outside well before 5 pm for a show that wouldn't start until about 8:30 pm. Once inside, they packed in, excitedly waiting for a guy many parents would freak out over if they ever read
his lyrics.
Taco
— not to be confused with this
Taco
— warmed up the stage for his man Tyler, spinning a bunch of Jay-Z, Lil' Wayne, Kanye and more. Then out of nowhere, the artist burst onto the stage as if blasted out of a canon going straight into the song "Bitch Suck Dick." Ah, yes. Joined by Jasper Dolphin, a fellow Odd Future cohort, he glided quickly around the stage. Sometimes there was gangsta swagger, other times he looked like an adult man throwing a tantrum.
After that first song he moved into the part of the show where he spoke to the audience. He called out one dude for using a selfie stick, he pointed out one woman's outfit whose hair looked like big Minnie Mouse ears.
"Have I been to Spokane before?" he asks a cheering crowd. "I guess it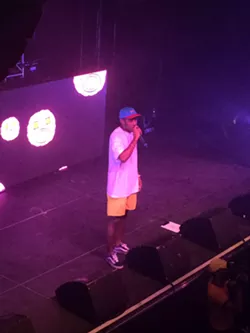 must have been a long time ago. What do you do around here? It looks like nothing."
And with all of these sweet things to say, the MC moved into more crowd-pleasing songs like the slow "IFHY" (perhaps his answer to Eminem's "Stan"), the money-motivated "Smuckers" and the pedophilia-vibing song "F—-ing Young / Perfect." For everything he did, the audience fist-pumped and jumped and cursed him and sang along with nearly every word.
Right around 10 pm, he stripped off his white T-shirt, thanked the crowd and peaced out … never to return.
But even if Tyler wasn't interested in being in Spokane any longer than he needed to, let it be known he worked his ass off with the songs he did do. There were breaks between tunes that lasted almost a minute just so he could catch his breath and towel off the gallons of sweat pouring out of him. He was scary, he was raw, he made all the faces. He was even kind enough not
to incite
a riot.
People had a lot of fun Tuesday night, and even with Tyler leaving straight to his hotel right after, that feeling of abandon while his catchy music was pumpin' is what everyone will remember. And that's what they should remember.