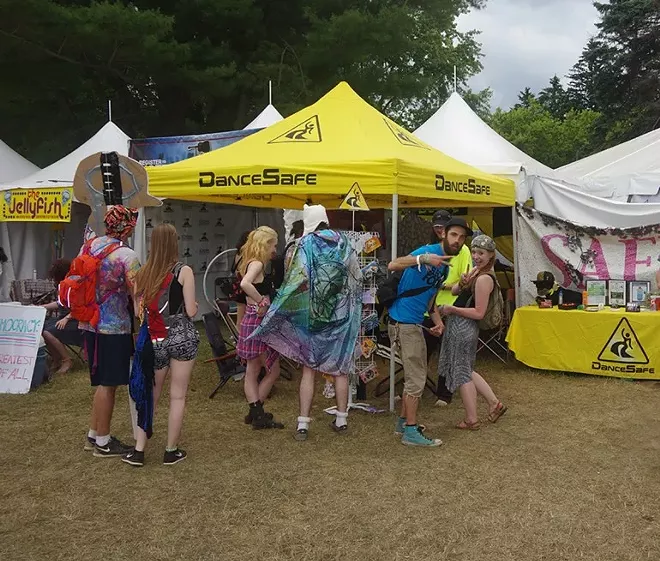 Adam Auctor parks his car along an empty stretch of road in Swan Lake, New York. It's 2 am as he slogs a miles through densely wooded forest, over a swamp, and across a bramble-choked creek. He reaches his destination wet and dirty and lobs the sacks he's carrying over the six-foot chain link fence where a co-conspirator waits to intercept the booty. Auctor will smuggle in additional bags in the trucks of food vendors and merchants headed into the Mysteryland USA festival here tomorrow.
Auctor isn't a drug smuggler; he relayed this scenario in an interview with the
Inlander
to show the lengths he has to go to to help festival-goers figure out what is
actually
in the drugs they plan on using. Auctor's company makes kits that test drugs for adulterants — additives or cutting agents used by drug dealers to stretch their products and sell more of less-pure product — and he sneaks 2,000 of these baseball-sized kits into each festival he attends.
"We do what we need to to save lives," says Auctor, though he's operating a business, not a charity; his basic MDMA test kit sells for $20 and is also
available online
.
Back in the 1990s Auctor wouldn't have needed to skulk through swamps in the middle of the night to provide harm-reduction services at events. He might not have needed to be there at all. There was a time when police officers, firemen or public health workers would test ecstasy tablets at raves. On-site testing is still the norm at electronic dance music events in countries like Portugal where all drugs were legalized in 2001, and the drug death rate is now two people per million compared to 147 per million in the U.S. While Portugal was doing that, U.S. lawmakers were working on the Reducing Americans' Vulnerability to Ecstasy (RAVE) Act which passed in 2003, making it possible for authorities to prosecute festival promoters for drug use at their events and issue hefty fines. This led venues and promoters to
institute zero tolerance policies
, leaving little room for harm-reduction service providers.
Auctor says in recent years the drugs he's encountered at events have become increasingly adulterated. "The adulteration rate is at least 70 percent," says Auctor. "The full replacement rate is 46 percent and most of the time it's bath salts."


In 2013, a group of documentary filmmakers travelled the country testing drugs at festivals. The film the group created,
What's in My Baggie?,
illustrates the frequency with which black-market drugs are misrepresented, with bag after bag of purported MDMA turning out to actually be synthetic cathinones, popularly known as bath salts.
Another harm-reduction group, DanceSafe, attends events to hand out ear plugs, educational materials and electrolytes to festival-goers. DanceSafe is a non-profit public health organization that has been testing drugs at electronic music events since 1998. If they want to test drugs at events now, though, they risk being told to pack up their brochures and leave. In June at the Electric Forest Festival in Michigan,
DanceSafe was asked to stop providing drug-testing services
. After they complied with that request, DanceSafe's Mitchell Gomez says a representative of the promotion company returned to request that the group stop handing out straws (to prevent users from sharing straws to snort drugs and spreading Hepatitis C) and drug-prevention educational materials.
University of Delaware professor and rave-culture researcher Tammy Anderson says she would like to see festivals building drug education into their events. "This year for the Electric Zoo, there was a short prevention video that you had to access to activate your wristband," says Anderson. "You had to have logged on to their website and watched their drug education video ahead of time." Anderson says drug prevention messages could also be communicated through signage at events and emails sent to ticket purchasers.
Correction: This article originally quoted a source saying that the Electric Daisy Carnival required ticket holders to watch a drug education/prevention video before activating their wristbands this year. The festival did not and the article has been edited to reflect this.