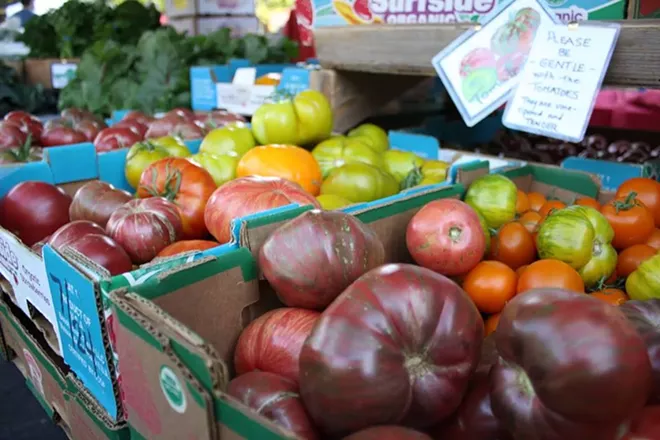 Since 1977, the Moscow Farmers Market has been providing Palouse residents with fresh produce, meat, baked goods, flowers, plants and handmade arts and crafts. This year, the market was recognized for its longterm success by the American Farmland Trust, a national nonprofit with the mission to preserve the agricultural trade for generations to come.
From the American Farmland Trust website:
Family farms who sell at farmers markets have nearly a 10 percent greater chance of staying in business than those selling goods through traditional channels.

Businesses near farmers markets report higher sales on market days — supporting the local economy and generating extra tax revenue in the community.

Farmers market shoppers save on average nearly 25 percent on food annually — when compared to shopping at grocery stores.

Throughout this summer Farmland Trust held its Farmers Market Celebration, during which the Moscow Market was voted the No. 1 farmers market in Idaho and one of the top 25 in the U.S. The public could vote for their market in five areas: People's Choice, Focus on Farmers, Healthy Food for All, Pillar of the Community and Champion for the Environment. Moscow's market placed at the top in each for all Idaho markets.
The Moscow Farmers Market is held every Saturday, from 8 am-1 pm, through the end of October, in downtown Moscow's Friendship Square.
Here's a roundup of other regional farmers markets still running as this season's harvest begins to wane:

Bonners Ferry Farmers Market | Last day of market is this Saturday, Oct. 3, from 8 am-1 pm. At 6181 Kootenai St., Bonners Ferry, Idaho. (208-267-2780)

Chewelah Farmers Market | Fridays, through Oct. 23, from 11:30 am-5:30 pm. At the northwest corner of City Park. (509-963-4353)

Coeur d'Alene Farmers Market | Wednesdays, from 4-7 pm, through Oct. 28. At Sherman Ave. and Fifth St. (208-772-2290)

Emerson-Garfield Farmers Market | Fridays, from 3-7 pm, through Oct. 16. In the parking lot of Knox Presbyterian Church, 806 W. Knox Ave. (emersongarfield.org)

Fairwood Flea & Farmers Market | Tuesdays, through Oct. 6, from 3-7 pm. At the Fairwood Shopping Center, 319 W. Hastings Rd. (466-0682)

Hayden Farmers Market | Saturdays, from 9 am-1:30 pm, through October 31. At the corner of Highway 95 and Prairie Avenue. (208-772-2290)

Kendall Yards Night Market | Wednesdays, from 4-8 pm, through Oct. 14. On Summit Parkway, between Cedar and Adams Alley. (kendallnightmarket.org)

Liberty Lake Farmers Market | Saturdays, from 9 am-1 pm, through Oct. 10. Town Square Park, 1421 N. Meadowwood Ln. (290-3839)

Moscow Farmers Market | Saturdays, from 8 am-1 pm, through October 31. Friendship Square, Fourth Ave. and Main St. (208-883-7132)

Northeast Washington Farmers Market | Wednesdays and Saturdays, from 9 am-1 pm, through Oct. 31. At Main and Astor, downtown Colville. (509-935-0555)

Pullman Farmers Market | Wednesdays, from 3:30-6 pm, through Oct. 28. In the Spot Shop parking lot, 240 NE Kamiaken St. (509-334-3565)

Sandpoint Farmers Market | Wednesdays, from 3-5:30 pm and Saturdays, from 9 am-1 pm, through Oct. 10. Farmin Park, Third and Main. (208-597-3355)

South Perry Thursday Market | Thursdays, from 3-7 pm, through Oct. 29. The Shop parking lot, 924 S. Perry. (thursdaymarket.org)

Spokane Farmers Market | Saturdays and Wednesdays, from 8 am-1 pm, through Oct. 31. At 20 W. Fifth Ave. (995-0182)

West Central Marketplace | Tuesdays, from 3-6 pm, through mid-Oct. (see Facebook for updates). A.M. Cannon Park, 1920 W. Maxwell. facebook.com/WestCentralMarketplace