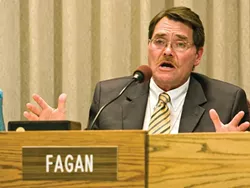 The city of Spokane Ethics Commission has dismissed complaints against Councilman Mike Fagan and City Spokesperson Brian Coddington while assessing a small fine against City Administrator Theresa Sanders.
In August, Councilman Jon Snyder
filed an ethics complaint against Fagan
alleging that he improperly disclosed the contents of a confidential legal document to the
Inlander
. The commission ruled on Nov. 11 that although Fagan did violate the city code, it wasn't a big enough deal to warrant any sanctions. Specifically, the commission, in its findings, stated that "because members of the City Council had previously disclosed portions of the same confidential Memorandum at a public meeting, the Commission hereby dismisses the Complaint…"
The commission, according to City Attorney Mike Piccolo,
also dismissed a complaint filed by former mayoral candidate Shar Lichty against Coddington
alleging he was untruthful in the lead-up to the firing of Police Chief Frank Straub. Piccolo says that the allegations in the complaint weren't supported by the facts.
Lichty also complained that Sanders had been untruthful concerning the transfer of Monique Cotton from the Police Department to the Parks Department, initially telling the
Spokesman-Review
that she was given an "enticement" to transfer. Later, Sanders said she transferred because of friction with the chief.
Concerning Sanders, Piccolo says, the commission determined that the facts, as alleged, would constitute a violation and the next step would be to hold a hearing. Sanders instead agreed to pay a $75 fine and agree to no longer comment on the matter to the media.