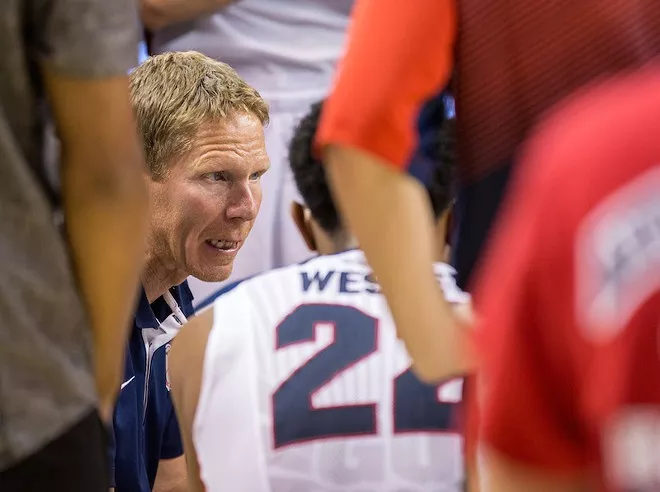 College basketball season is here, and not in some lame, exhibition-against-a-school-you-had-to-Google sort of way. There are real, count-for-real games happening as you read this and for some of us, this is right up there with the first day of the NCAA tournament, which itself is better than Christmas. So, today is like, I don't know, maybe on par with Christmas (but not better than a got-a-new-bike Christmas, just to clarify).
Locally, Opening Day lives up to the hype with Gonzaga having crossed the entirety of the Pacific Ocean to appear in this afternoon's matchup against Pittsburgh as part of the Armed Forces Classic on a military base in Japan. Technically, the game
which has been delayed to a 4:30 PST tipoff,
actually takes place tomorrow. That's right, it's being played on
Saturday morning
local time in Okinawa.
This marks the first time that Gonzaga has played a game in the future.
If your head is wrapped around the flux capacitorishness of all that, I'll continue to say that although this Zags team is as stacked as any GU squad, this matchup against Pitt is a tough way to start your season. The Zags only had one
cupcake exhibition against Eastern Oregon
, which they dominated, and are immediately met with an ACC foe, granted one that's picked to finish at the bottom of that talent-heavy conference.
Pitt isn't as big as the Zags — because, really, no one is — but they have some experienced big guys like Michael Young who will be able to compete. And Jamie Dixon always puts a tough team on the court, you can count on that.
But the other variable is that Gonzaga is playing 6,000 miles from home on a portable court inside a field house. A lot of things could be different for them. Not to say the trip wasn't worthwhile, because they got to do some cool stuff, like this.
Also, sophomore Domantas Sabonis banged up his back in that Eastern Oregon game. He made the trip and has reportedly practiced, but no word on how much time he'll see.
Regardless, you have to be excited to see what Kyle Wiltjer is going to do for his opening night performance as the Assumed Best Player in College Basketball. No Zag has ever received those sort of pre-season accolades, to which was recently added the distinction of top vote-getter in preseason AP All American voting, so the expectations are high. I don't foresee a
Morrison-in-Hawaii sort of performance
, but who knows.
Also, let's get a look at Mark Few's backcourt already. No Pangos, no Bell, no Wesley? No friggin' problem, tough guy, because the Zags have more than enough feisty and fast talent at guard. Josh Perkins has his jaw fixed. Silas Melson is a deep threat. Kyle Dranginis can create points out of the ether. And I once saw McCllelan beat a speeding train in a race through downtown Spokane.
Again. The game has been delayed to 4:40 pm. Sorry, you're going to have to work the rest of the day.
EASTERN WASHINGTON GOES TO THE SEC
It's hardly an international trip, but the EWU Eagles men's squad is doing a little traveling of their own. The new look Eags and their fearless coach (
I wrote a bunch about him last week
) take on Mississippi State tonight down in the deep South. The game is at
6 pm on the SEC Network.
What will this year's Eagles look like? It's really damn hard to say. They've got only one returning starter — Australian dunk machine Venky Jois — and filled in a roster with transfers, redshirts and dudes who didn't see much time last year.
Will all that said, EWU is still going to be aggressive and shoot the lights out down at MSU. Those two things are certain. Look for a fully healthy Sir Washington (best name in Inland Northwest basketball) to provide a spark fans didn't get to see much last season and senior graduate transfer Austin McBroom to give an experienced edge at the point.
As for three pointers, Felix Von Hofe and Bogdan Bliznyuk will have you covered. Both can stroke it.
WSU IS ALSO PLAYING, YOU GUYS!

I organized this preview in geographic proximity to downtown Spokane, so no slight to the Cougars. But they take on Northern Arizona tonight down in Pullman at
5:30 pm. If you can't head south, check it out on Pac-12 Network.

If you've been watching TV or listening to the radio lately, you may have heard the voice of effervescent Cougs head coach Ernie Kent promising that the Cougars are going to play fast down in Pullman this season. This is their first test and it comes against a middle of the pack Big Sky team.
The Cougars have seven new players on a lineup that doesn't feature DaVonte Lacy for the first time in what seems like forever. But they do return Josh Hawkinson, the breakout big man who had 14.7 points per game and more than 10 rebounds last year for the Cougars. He's going to be vital to the Cougars return to relevancy in the Pac-12.