The president of the Spokane Police Guild was put on paid administrative leave Thursday for his possible involvement in leaking information to a Spokane cop accused of rape, according to a news release from the city.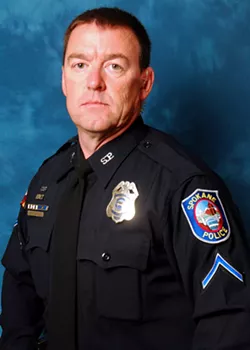 Sgt.
John Gately's
status is the most recent development in two investigations by the Sheriff's Office into the actions of two Spokane police officers. The first involves an alleged sexual assault, and the second involves accusations that someone within the department leaked information about a warrant sought by the Sheriffs Office to an officer facing accusations.
"He is a person of interest in the leak investigation," Sheriff Ozzie Knezovich says of Gately. "The investigation is ongoing right now."
Spokane Police
Sgt. Gordon Ennis
, who stands accused of raping a fellow female officer while she was passed out on a bed during a drunken police party, is also on leave. According to court documents, the alleged victim had several drinks at a house party on Oct. 24 and passed out in a guest bedroom. When she awoke, Ennis was sitting on the bed next to her with his hand down her pants, court documents say.
A third officer and the host of the party, Doug Strosahl, is also on leave for his part in possibly destroying evidence.
When detectives arrived at Strosahl's home to ask questions and collect evidence, he told them to get a search warrant and refused to say who attended the party, according to court documents. Detectives believe both Strosahl and Ennis were tipped off to the investigation, based on the fact that they hired attorneys before any search warrant was filed last week.
Gately makes $102,604 a year, Ennis makes $98,804 and Strosahl makes $83,666.