One Spokane police officer stands accused of raping a fellow cop at a police party over the weekend, while a second is now under investigation for destroying evidence of the attack.
Sgt. Gordon Ennis was put on paid administrative leave pending the outcome of a criminal investigation of second-degree rape charges, according to court documents. The alleged crime occurred during a party at the home of another Spokane police officer, Doug Strosahl, who was also placed on paid leave after allegations of tampering with evidence.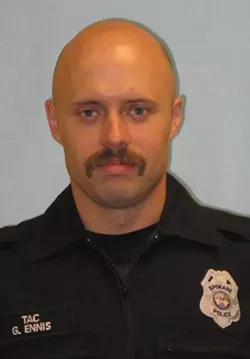 Last night, in an interview with
KHQ
, Spokane County Sheriff Ozzie Knezovich said it appeared that Ennis was tipped off to a search warrant for cell phone records and a DNA sample. Knezovich also said Strosahl wouldn't allow detectives into his home until they got a warrant and he washed clothes that the alleged victim was wearing before detectives could collect them, destroying potential evidence.
"You have to remember, these are police officers. As soon as that young lady started talking about what happened, they knew what was going to happen," Knezovich said. "They knew that they had certain responsibilities to preserve evidence, and that did not happen."
Knezovich also called out a top city official, saying that City Administrator
Theresa Sanders
asked that the words "sexual assault" not be used in the press release announcing the investigation. Sanders is currently the target of a
ethics complaint
that claims she lied about circumstances surrounding the transfer of former police spokeswoman Monique Cotton to the parks department. Mayor David Condon denies any cover-up in a statement to KHQ: "The facts about the release of information don't support the allegation of mischaracterizing the investigation."
According to court documents, the alleged assault occurred early Sunday morning Oct. 25. The female officer told investigators she had about four drinks and then passed out in a guest bedroom. She was wearing borrowed clothes because she had been in a hot tub earlier in the evening.
When the female officer awoke, Ennis was sitting on the bed next to her with his hand down her pants, according to court documents. When she tried to get away, Ennis said, "I gotta go, I gotta go home," and left quickly, records allege. The woman told other officers, including Strosahl, what happened before leaving.
Ennis was investigated in January 2011 for
killing an intoxicated pedestrian
with his patrol car. Ennis claimed he was typing a message to another officer when his car struck John Van Curler; however, that detail was not released to the public until months later in a report by then-police ombudsman Tim Burns. Investigators also found no record of the message on Ennis' computer, and the other officer never received it, according to a report by the
Spokesman Review
. Ennis did not face any criminal charges and was exonerated of wrongdoing by an internal investigation. He was driving between 34 mph and 39 mph in a 30 mph zone when he struck Van Curler.
As for Strosahl, the party's host, he was one of six officers who fatally shot a man armed with a shotgun at a busy Spokane intersection in 2010, according to news
reports
.