As the wind winds down
The morning after the record windstorm in the region,
two are dead
, trees are everywhere, the Whitworth campus is a mess — with the library hit directly — schools are closed and
158,000
are without power. KXLY reports the roof was ripped off of
SpokAnimal's
facility.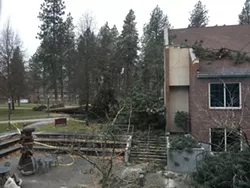 Terror's aftermath

Meanwhile, in Paris, gunfire rang out in a series of
terrorism
raids that ended with seven arrested and two dead. One of two dead
blew herself up
. Meanwhile, the
New York Times
reports that the family members of the raid's apparent
organizer
hoped he had died in
Syria
.
Knows a lot about the brain though
Ben Carson doesn't know much about
foreign policy
say... aides of Ben Carson.
In hindsight
Kevin Drum, of
Mother Jones
, asks if Obama
could have prevented
the rise of ISIS back in 2012.
Bully pulpit
Obama uses the debate over accepting refugees to slam the GOP for "
political posturing
."
The Nathan Fielder, Modern Oprah

The goofy "non-fiction" book about a bodybuilder, his gym-less workout regimen, and his friendship with Steve Jobs/Jungle
Children,
featured on
Nathan For You,
has become an
Amazon bestseller.

After the Paris attacks, this video has gone viral.