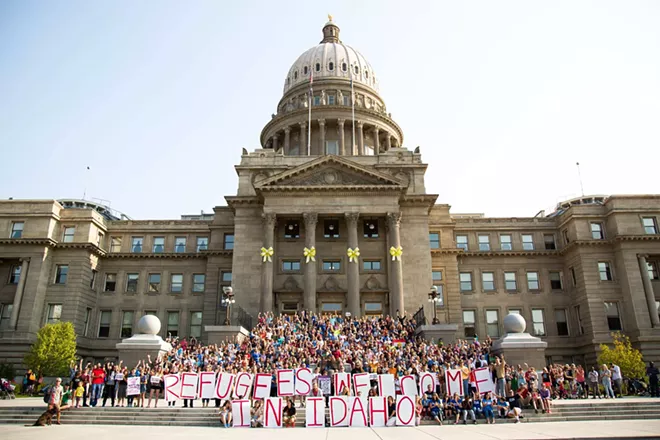 A woman and her child just finished their shopping at WinCo. As they were leaving the grocery store in Boise, some people in a pick-up truck drove by and yelled "Go home, ragheads!" This is just one of the remarks Sean Foster recalls that refugees in the Boise area have encountered.
That is why Foster, 26, and Sophia Brasil, 22, are holding a pro-refugee rally in Idaho's state capitol. Brasil works with the
International Rescue Committee
in Boise.
"We are putting on the rally to have a public display to the community and the country that there are people who won't let acts of terrorism scare them into not doing what is right," Foster says.
This comes after heightened tension following the
Paris attacks
. Foster has friends who were injured during the attacks, and friends of those friends who were killed. He was motivated and inspired that they "did not lose their resolve to welcome the people who are seeking refuge."
Idaho Gov. Butch Otter is among many governors
wanting to cease
the welcoming of refugees into the country, citing that the refugee resettlement program hasn't been properly explained, and that it is allowing people into our country who want to do harm to our communities and people.
"It's disappointing that our leaders are fine with singing about the land of the free and the home of the brave but when the chips are down don't act bravely and don't promote the U.S. as a land of freedom and refuge," Foster says. "Compassion and doing the right thing has always been dangerous in the world. If the right thing were easy everyone would do it."
The rally will also include a holiday drive to benefit refugees, homeless and in-need veterans. Foster is expecting about 500 people to attend, but a few hundred more have expressed interest on Facebook. The organizers suggest bringing the following:
Coats, clothes, shoes

Non-perishable food items

Hygiene products (toilet paper, shampoo, soap, deodorant)

Diapers

Blankets