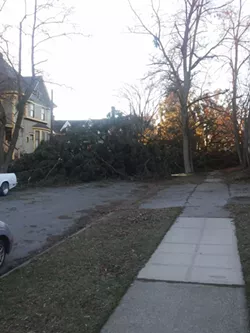 Windstorm update
Residents of Spokane and North Idaho are going into the third day without power as a result of Tuesday's historic windstorm.
The Spokesman-Review
reports
that 20,800 homes and businesses are still without power.
Here's a map
the city has compiled of all the downed trees.
Here's
a list from the city
of where to get groceries, stay warm and receive medical care. The library is also offering outlets to allow people to charge their phones.
The Kootenai County Board of Commissioner
has issued a declaration of disaster as a result of the windstorm.
The declaration allows emergency management services to spend whatever is necessary to deal with the crisis.
The Red Cross has opened a warming shelter
that welcomes pets.
FROM INLANDER.COM
Did the Department of Natural Resources react quickly enough to the summer wildfires?
Three people in Okanogan County
are suing the state Department of Natural Resources
alleging that the agency didn't respond swiftly enough to the past summer's historic wildfires. The plaintiffs in the case fault the department for what they call a sluggish response and for preventing them from fighting the fires themselves.
Are you ready for genetically modified salmon?
Genetically engineered salmon
has been approved for human consumption.
The Food and Drug Administration has given the green light for a company called AquaBounty Technologies to sell Atlantic Salmon that's been modified to grow faster. The approval comes over objections from consumer advocates who say the fish may escape into the wild and the decision came without adequate study.
Refugee showdown in D.C.
The U.S. House of Representatives
has passed legislation suspending President Barack Obama's plan to accept 10,000 Syrian
refugees and increase the scrutiny they face once the program resumes. The bill faces a less certain fate in the Senate.
About that whole border wall thing

A new report from the Pew Research Center has found that
fewer Mexicans are immigrating to the U.S.
and are instead going home. The report suggests increased raids and fewer jobs may be reason why they are leaving.