In the '80s, when comedy blew up from dirty little clubs into a booming industry thanks to HBO specials and MTV's Half-Hour Comedy Hour and the like,
Steven Wright
rode the wave to fame, using a lethargic stage presence and non-stop onslaught of one-liners like: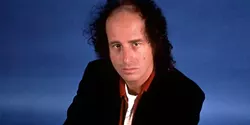 "What's another word for thesaurus?"
"Everything is within walking distance if you have the time."
"I stayed up late playing poker with Tarot cards. I got a full house and four people died."
His 1985 album,
I Have a Pony
, is a classic, and led to a cult following that expanded into mainstream success. In 1989, he co-wrote and acted in an Oscar-winning short film,
The Appointments of Dennis Jennings
, and his voice is heard on the radio as a DJ in
Reservoir Dogs
, and he had an utterly
odd role in stoner comedy Half-Baked
.
The past few years he's gotten back into standup, and his tour is stopping in Spokane on Friday, Jan. 8 at The Bing.
Tickets are on sale today via TicketsWest
, and are $41.50.
Here's a compilation of some of his best: