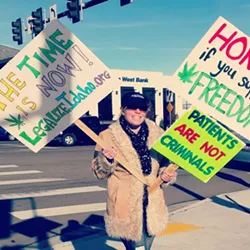 Serra Frank plans to ring in the New Year by smoking a joint and very possibly being arrested.
Frank intends on committing an act of civil disobedience by lighting up a joint on the steps of the Idaho state capitol as part of rally protesting the Gem State's marijuana laws, which remain significantly more restrictive than those in neighboring states.
The 33-year-old resident of Boise says she uses marijuana to treat a bladder condition and has lived in states that allow for medical uses of the drug.
"I want to live in a medical marijuana state," she says. "But I want that state to be Idaho because Idaho is my home."
Idaho does not have a law in place sanctioning the medical use of marijuana. Possession of the drug remains a misdemeanor in the state and a conviction can mean jail time and fines.
Earlier this year,
Gov. Butch Otter vetoed a bill
that would have allowed parents of children experiencing severe seizures to use cannabidiol oil, a marijuana byproduct that contains virtually no THC, to treat their conditions. Later, the
governor issued an executive order
creating a trial program to allow families to use an experimental drug extracted from marijuana to treat their condition.
Currently, a group called New Approach Idaho is collecting signatures for a ballot initiative that would create a medical marijuana program in the state and decriminalize the drug. Frank says she has little confidence that Idaho lawmakers will reform the state's marijuana laws and she hopes that her protest will bring start changing attitudes of the public.
"Regardless of what people believe we need to be having a discussion about what's going on and this is a way to discuss what's going on," says Frank of her planned protest.
Frank, the mother of three and the founder of a group called Moms for Marijuana, says she'll give a speech about how civil disobedience has been used to create social change before lighting up a joint. She's invited members of the press and law enforcement to attend. She says she's been arrested for marijuana possession previously and already has bail lined up for her likely arrest tomorrow.
"Most people who support prohibition have not been affected by prohibition," she says. "And what we are trying to educate people on is that prohibition affects everyone."
Update:
Frank was arrested on New Year's Day. After giving her speech, she pulled out a bag of marijuana, but was arrested before lighting up,
reports
the
Idaho Statesman.