This year, as a few of you may have noticed, we didn't include our Top 10 albums of 2015 in our annual Year in Review issue. But as this year was packed full of awesome new releases, we absolutely wanted to include our lists online. Let us know if there were any albums we left out below. Also, check out our picks for the best local shows of the
year here.
Music editor Laura Johnson's Top 10
1. Father John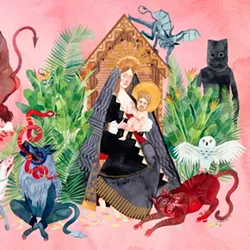 Misty, I Love You, Honeybear
In May, depressive-sounding troubadour Father John Misty, aka Joshua Tillman, flung himself around one of the Sasquatch! music festival stages in what was almost a parody of rock star dance moves. The music he played, mostly from his February release,
I Love You Honeybear
, was also almost a parody of music and lyricism. Now, nearly six months later, this is the album I keep going back to. With sweeping orchestration and synthesizers, sparse piano parts and the occasional laugh track, the tunes balance biter sarcasm with actual happiness — Tillman was recently married, after all. At one point in the album's lead single "Bored in the USA" Tillman (a former Fleet Foxes drummer) asks: "Is this the part where I get all I ever wanted?" And while it's hard to get everything you ever yearned for, at least this year, we were blessed with Father John Misty's eccentric and haunting best piece of work to date.
2. Adele,
25
3. Joanna Newsom,
Divers
4. Kendrick Lamar,
To Pimp a Butterfly
5. Sleater-Kinney,
No Cities to Love
6. Kurt Vile,
b'lieve i'm goin down...
7. The Woolen Men,
Temporary Monument
8. Dawes,
All Your Favorite Bands
9. Car Seat Headrest,
Teens of Style
10. Chris Stapleton,
Traveller

Music writer Dan Nailen's Top 10
1. Courtney Barnett, Sometimes I Sit and Think, and Sometimes I Just Sit
Courtney Barnett was certainly one of the darlings of the indie-rock scene this year, and like many, there was no way I could resist the charms of her excellent full-length debut. Between her seemingly tossed-off-the-top-of-her-head lyrics ("I must confess I've made a mess of what should be a small success"), charming Aussie accent, wicked guitar-hero riffs and knack for throwing killer hooks into every one of the 11 songs,
Sometimes I Think ...
made its way into my headphones almost immediately when it was released in March, and rarely left them for long for the remainder of the year. I found 2015 to be a remarkably strong year for new releases, and the fact that this 28-year-old relative newcomer tops some of my favorite artists is a testament to her skills, and to undeniable tunes like "Elevator Operator," "Dead Fox" and "An Illustration of Loneliness (Sleepless in New York)." Here's a little sample:
2. Wilco,
Star Wars
3. Sleater-Kinney,
No Cities to Love
4. Jason Isbell,
Something More Than Free
5. Rhiannon Giddens,
Tomorrow Is My Turn
6. Dwight Yoakam,
Second Hand Heart
7. My Morning Jacket,
The Waterfall
8. Faith No More,
Sol Invictus
9. Dave Rawlings Machine,
Nashville Obsolete
10. El Vy,
Return to the Moon