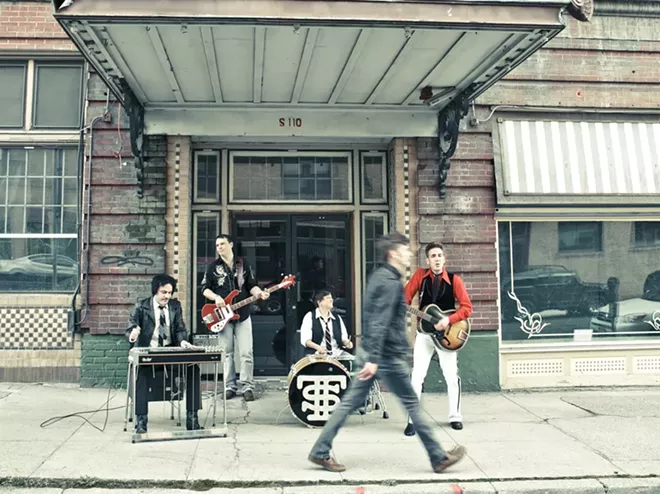 TONIGHT
Celebrating some of Spokane's favorite singer-songwriters, the Big Dipper hosts the first
Songwriters Festival.
The bill features community musicians the
Marco Polo Collective, The Way Home, Andy Rumsey, Nate Greenburg, Paul Abner, Bradford Little and Gabe Knox
. Each artist will have their time in the spotlight, but don't be surprised if there's also a bit of collaboration between the acts. The plan is to make this into an annual event. The show starts at 7:30 pm and is $7 at the door.
Local folk rockers
Bristol
are set to release an EP recorded over the course of 2014 tonight at the Bartlett. The sound, according to our own Dan Nailen, is full of heartfelt ballads and anthemic rockers, led by songwriter Curran Long's acoustic and some sweet harmonies from the other boys in the band. Show starts at 8 pm and is $10.
The new live music venue the Observatory, continues making sweet music this weekend
with loca
l alt-rock acts
Von the Baptist, Ampersand, Wind Hotel and Pine League.
The show is a $5 suggested donation and is a cancer benefit for longtime Mootsy's bartender Erin Fasbender. Go check out the space and sound and pick up one of their signature cocktails.
After six years together, local country crooners
Silver Treason
have finally released a CD
(listen here
), which can be heard below. Tonight, the seasoned four-piece takes on nYne and crazed rock revivalists
Whiskey Dick Mountain
open the set. $5 gets you in and the show starts at 9 pm. Read our up close and personal interview with the band
here.
SATURDAY
After hearing Silver Treason kick up the dust Friday, you'll want to hear other local alt-country act
Cursive Wires
in action at Mootsy's Saturday night. The show starts at 9 pm and is sure to get you dancing.
Ready for some emotion-filled singer-songwriter music?
Silver Torches
(led by Spokane's Erik Walters) headlines and
Young in the City
, Noah Gunderson's new project, open the Bartlett Saturday night.
Windoe
will be there, too. Show is at 8 pm and is $10 at the door. Check out Silver Torches Jan. 1 release,
Heatherfield
below. Start with "Dearborn" or maybe "New Year."
MONDAY
Car Seat Headrest
plays the Bartlett Monday and you won't want to miss it.
Here's why
and here's
why.