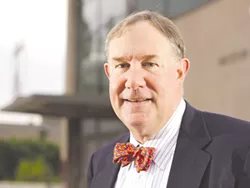 In what might feel like a bit of a replay of 2012, the board of the Northwest Museum of Arts and Culture voted last night to fire Executive Director Forrest Rodgers.
The firing comes less than a month after the board of trustees president, Toni Pessemier,
told the Inlander that both Rodgers and the board
were on the same page to pursue a long-term plan with the state (the MAC is a state agency) to ensure the vitality of the museum for years to come.
Reached by phone this morning, Pessemier confirmed that Rodgers was fired after a vote by the board of trustees last night recommended that Gov. Jay Inslee remove Rodgers from his post, which he Inslee did. Pessemier could not, however, give the reasoning for his termination, saying that it was a personnel matter.
At the same meeting, the board voted to install John Moredo-Burich as the interim executive director. Moredo-Burich was the director of museum experience for the past year and was key in bringing in some of the successful shows the MAC has hosted in recent months.
Rodgers was fired by the MAC's board back in the spring of 2012, which sparked a community uproar over the handling of the situation. Eventually, after Rodgers threatened a lawsuit and members of the board resigned in protest, Rodgers was rehired to the museum's top post.
But after that,
a state investigator looked into a number of complaints
about Rodgers' leadership style and allegations that he was retaliating against those who were against his rehiring. The resulting report found that Rodgers' "leadership and communication since August 2012 has had a significant and detrimental impact on the MAC, including museum programming, education, community outreach, staff morale, staff retention and the staff's ability to perform as required by their position description."
This story has been updated with additional information.