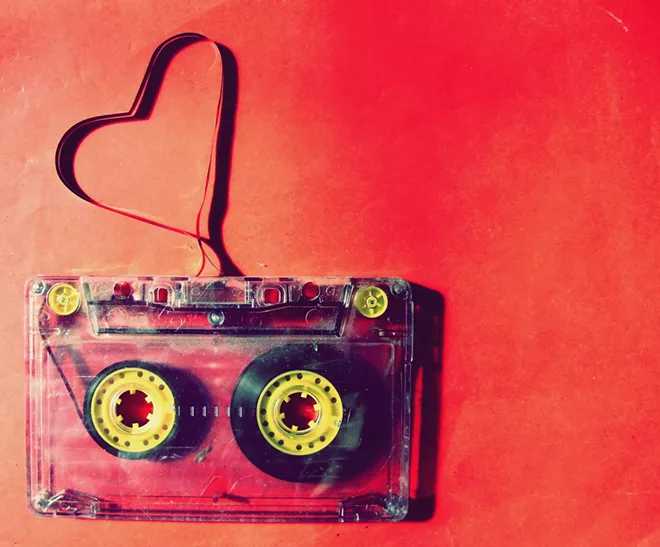 There's a lot to love about this Valentine's weekend full of music. Get out there.
FRIDAY
With all its talk of boots, hats, trucks, guns and 'Merica, pop-country music is an easy target for hate, which music critics tend to revel in. I've personally tried liking it. Life might be more entertaining if I just let go and liked pop-country, but it doesn't work. However, when it comes to
Brad Paisley
, who's headlining the Spokane Arena Friday with his Crushin' It World Tour, even if you don't enjoy country, you can at least rest assured the man can wail on his gee-tar. Not only in country music, but in all genres, Paisley is one of the best guitar players around. He's even released an album consisting mainly of instrumental tracks. The show starts at 7:30 pm.
Hear sweet local: The Big Dipper
hosts
rockers
Bullets or Balloons, the Smokes, Goodnight Venus
and
Sets
tonight at 7:30 pm. Cost is $7 at the door for this all-ages show.
SATURDAY
A place that's not usually full of live music, Rated R Tattoo is
hosting
a whole slew of local acts Saturday including:
Punks In Drublic, Minds Decay, Children Of The Sun
, acoustic by
Zaq Flanary
and
Ariah & David
from Thunder Knife. Bring non-perishable items and receive a discount on your tattoo (that you're getting in-store that day). Also, expect homemade chili and cornbread for this all-ages event starting at 6 pm.
Hear awesome local:
Mootsy's
has
Von the Baptist, Ampersand
and
Wind Hotel
and the
Observatory
has
Buffalo Jones
and
Silver Treason
. Mootsy's is free and the Observatory is $5. You probably want to go to both. Check out our review of the recent Silver Treason album
here.
VALENTINE'S DAY
This Valentine's Day, Jones Radiator combines the best and the worst of life to create one unforgettable,
boozy ice cream social
— the best being delicious ice cream-infused cocktails, the worst being rotten love poetry. The event features flavorful desserts provided by Annie's Artisan Ice Creams (flavors like rosemary and Vanilla Vera Cruz mixed with liquor), but also terrible love poems written by you, which will then be read aloud. If your poem is selected as the worst of the bunch, you could get a three-month subscription to Annie's pint club. Between the readings, expect music by
Stella Jones
. Free at 7 pm.
Ready to slow it down? The Observatory is also working out the holiday of love with a '70s/'80s hits party featuring
MC Positive Love, Rainbow Delicious
and
DJ Tanner
. Basically, expect all of the sultry and good grooves at this show. The show starts at 9 pm and is free. Legwarmers and spandex are optional.