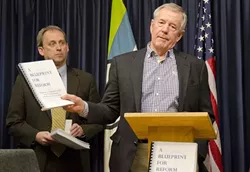 On Inlander.com
•
Jim McDevitt, Spokane's next interim director of law enforcement, has quit the Police Leadership Advisory Committee after a heated meeting.
The committee expressed concerns it wasn't consulted in McDevitt's hiring and for a controversial opinion piece he published years ago. McDevitt says he stepped down because holding both positions would be a conflict of interest.
•
Gonzaga's Homeless Outreach project is holding a drive to collect unused undergarments and toiletries for the area's homeless women.
•
Treefort Music Festival, Umphrey's McGee, Justin Bieber and Slayer are all coming to venues near you.
•
Washington state contributes to groundbreaking scientific discovery
.
Other news
•
Idaho governor concerned over faith healing
Butch Otter has issued a letter
to legislative leaders asking them to look into the issue of religious groups who eschew traditional medical care in favor of prayer.
•
Right to try in Idaho
Idaho lawmakers
are considering legislation t
hat would allow terminally ill patients to try medications that haven't been approved by regulators.
•
Truce (sort of) reached in Syria
The
Syrian civil war will be paused
as groups try to negotiate a truce. However, the agreement still allows a Russian bombing campaign.
•
Democrats debate
Presidential candidates
Bernie Sanders and Hillary Clinton squared off
once again to present their visions and ability to bring them into reality last night.
•
Cruz removes campaign ad with erotic actress
The campaign of GOP presidential contender T
ed Cruz had to remove a campaign ad
that featured an actress who appeared in softcore porn films.