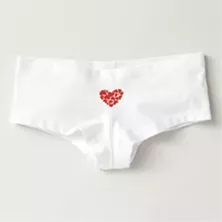 Every year, people buy new lingerie for Valentine's Day, but for homeless women in Spokane, finding undergarments and hygiene products can be one of their biggest challenges. Well, good news for your forgotten-about, unused undergarments or the shampoo you bought too much of last week. Gonzaga University students are putting these items to use this V-day.
Gonzaga's Homeless Outreach has
invited the GU community
to give back with a 'Got Panties?' drive on campus. The drive is scheduled to last through Feb. 12 (that's tomorrow) in the Hemmingson Center, and welcomes new bras, panties, hygiene products, toiletries and cash donations.
Nadine Van Stone, director of St. Margaret's Shelter, a program of Catholic Charities, says that because most families use their monthly allotted income and food stamps to knock out the necessities, they often leave out room in the budget for hygiene products.
"It's huge," she said. "Because you can't buy feminine hygiene products with food stamps, so that means it has to come out of that very limited cash assistance that families get every month and there are plenty of priorities for that money. That pays for rent, that pays for bus tokens, that pays for gas, diapers. So they're really happy when we can provide them with free feminine hygiene products."
The GU Outreach teams are planning to donate their proceeds and items to St. Margaret's, Transitions and Hope House after their drive ends this Friday. All three of these organizations are dedicated to helping homeless women, children and families in Spokane, along with combating widespread homelessness in the area.
So as you're enjoying your candle-lit dinner with your significant other or your Netflix account, remember those unused items or think about buying a little extra when this week for a woman in need.