The sun keeps teasing us. Recently, the yellow orb has come out to warm our bones and thaw our streets. Some folks have even been spotted wearing shorts (ugh). But that doesn't mean it isn't still winter. To warm up your seasonal spirits, you probably need to get away for a weekend and experience some music.
The following four regional concerts play to a wide variety of musical tastes and fall during a long weekend in March. Plan to take advantage of them immediately. In the meantime, be sure to check out all of the awesome live music happening in our
area.
March 10 - Umphrey's McGee

The Hive, Sandpoint
$30-$109
The feel-good jam band Umphrey's McGee frequently plays large theaters and music venues — and are playing Seattle's Moore Theater March 11 — but you can catch the band in a much more intimate setting (1,000 capacity) at Sandpoint's
Hive
Thursday, March 10. The precision-focused yet experimental six-piece has captivated rock fans with their constantly changing setlists since the mid-90s. We're not here to tell you to take a long weekend, but feel free to take advantage of Sandpoint's hotel, bed and breakfast and airbnb options for this show. Let loose.
March 13 - Justin Bieber
Moda Center, Portland
$50-$116
Sorry, this
show
is not for the faint of heart. First of all, there's the screaming. Teens and their mothers are sure to be out in full force screaming their brains out here. But the Biebs is no longer a teenager and his music fully embraces all of the grown-up world he previously pined for. So expect one wild performance coming from the stage complete with nearly-nude dancers and pyrotechnics galore. Some singing may even be included. This is the type of concert perfect for a mother/daughter getaway. Surprise tickets to this show may just get you all of the brownie points.
March 19 - Slayer
Paramount Theater, Seattle
$41-$56
Celebrate St. Patrick's Day weekend (it's on a Thursday this year) in Seattle style and then rock out to your heart's content with Slayer
Saturday
. This influential act that's sold millions of records worldwide, is touring behind their fresh 2015 album
Repentless
. And, disappointing all Inland Northwest metal heads, the act is not coming through the Spokane Arena and is instead hitting up the Paramount Theater. So, for the most hardcore thrash metal fans among us, the travel time will be more than worth it for this show.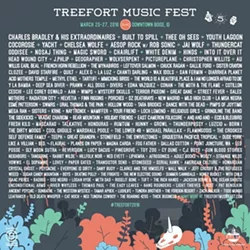 March 23-27 - Treefort Music Festival
Downtown Boise
Five-day pass $159
Now in it's fifth year, the community music and arts festival already announced a bunch of stellar acts like
Charles Bradley & his Extraordinaires, Built to Spill, Thee Oh Sees, Thundercat, White Denim
and
Hinds. T
oday, that list got longer as festival promoters added its final round of bands with
Cocorosie, Chairlift, Yacht, the Mynabirds
and more. In all, expect more than 400 bands over five days (including Easter this year). Film, comedy and yoga sessions are also highlighted during the event. Compared to the steep prices of other music festivals, the affordable
Treefort
is well worth the long weekend adventure. Plus, you get to explore more of downtown Boise.
Travel advice
Unless you own your own airplane, in which case we want to be your friend right now, the major ways to get to these regional destinations is to drive or fly commercially. Southwest has had some killer steals to Boise recently and Alaska touts free in-flight alcoholic beverages with its trips to Portland and Seattle. Before you head out anywhere in your car, be sure to check the passes in
Washington
and
Idaho
, they've been closed quite a bit this winter.