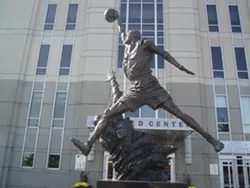 You might have heard some word about Gonzaga's men's basketball team making it to the Sweet 16, and while that's exciting from a sports perspective, it's daunting for anyone hoping to travel with the team to its next game or two.
The first two rounds were in Denver, a considerably easy travel effort from Spokane. Friday, the
Zags play in Chicago against Syracuse
, and if they win, they have another game on Sunday.
Let's break down what a fan can expect to pay if they decided today to head to the Windy City and root for Wiltjer, Sabonis and the boys:
TICKETS
The folks at
Priceline and TiqIQ
did a breakdown of ticket prices for each of the four regions of the tournament; the prices are based on the average prices found on the "secondary market," things like StubHub and Craig's List.
The Zags are in the Midwest Region and playing at Chicago's United Center, where the current average price for all three games happening Friday and Sunday is $659. The cheapest available is $232. If you just want to go on Friday, that ticket to see
Gonzaga vs. Syracuse
and
Virginia vs. Iowa St.
averages $420, and a ticket just for the regional final on Sunday averages $276.
We fully expect Gonzaga to win on Friday and play on Sunday, so let's (pretend to) buy that all-session average ticket.
Tickets grand total: $659
FLIGHTS
I did a quick Expedia search for flights from Spokane to Chicago, and looked for the best deal that gets a fan to the game before Friday's 6:40 pm Pacific tip-off. And I'm going to assume the Zags play on Sunday, meaning the earliest one might fly home to the Inland Northwest would be a Sunday red-eye or early Monday flight.
The cheapest flights Friday get to Chicago too late to make the game, so if you want to leave Friday morning and still see the game, you need to get up early. There's a 5 am American Airlines flight that gets you to Chicago at 2 pm Friday for $638, and a Delta Airlines flight at 6 am that gets you to Chicago a little after 3pm for $690. Southwest Airlines comes through with a 5:35 am flight out of Spokane arriving in Chicago at 2:30 pm for "only" $558, so we'll take that one.
Tickets grand total: $558
HOTELS
I used Priceline to search for hotels, planning on checking in on Friday and leaving Chicago on Monday. Obviously a city the size of Chicago has a ton of hotels, and depending on how far you want to travel to the arena, you can find a wide price range.
Walking to the game is a great option, though, and the Crowne Plaza Metro hotel is just 1.5 miles away and $134 a night. So, we'll stay there Friday until Monday, and it will cost us $402, plus hotel taxes, which in Chicago is an absurd 16.4 percent.
Hotel grand total: $469


So, in order to go watch Gonzaga play Syracuse on Friday and then (hopefully) take on the UVa/ISU winner on Sunday, flying as cheaply as possible, staying in an average hotel and buying an average-priced ticket, you're looking at a grand total of:
$1,686


And you haven't even eaten a single Italian Beef sandwich or Lou Malnati deep-dish pizza, or sipped your first Old Style.