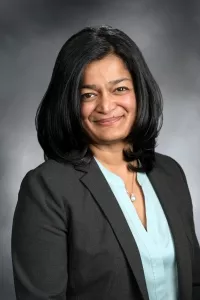 Washington state is racially offensive.
At least some of the names given to 36 lakes, creeks, canyons and other geographic features with names such as "Negro Creek" or "Squaw Valley" may have seemed like good ideas in the 1800s, but are now considered racially caustic.
Now, Pramila Jayapal, a Democratic state senator from Seattle running for Congress, says it's time to scrub these names from Washington's landscape. Jayapal says she initially considered sponsoring legislation to update these name, but figured it would be more straightforward to use the existing administrative process to change the names.
"These names would not be used in conversation today," she says. "There's really no good reason to keep them alive in our state. Rather than clinging to relics of an intolerant past we should rename them for something that's positive and beautiful in our state."
Jayapal says the issue first came to her attention when a constituent sought guidance on how to change the name of Coon Lake, located in the North Cascades. Last year, the name was officially changed to Howard Lake by the U.S. Board of Geographic Names. The state Department of Natural Resources has a similar process, and Jayapal is seeking to use both to update the map of Washington.
Proposed name changes are first reviewed by the Committee on Geographic Names and are then forwarded to the Board on Geographic Names for approval. There's a parallel process for changing names on federally controlled land, such as national parks.
A map
compiled by Jayapal shows that land east of the Cascades is littered with inflammatory names (there are none in Spokane). But some officials don't feel the impetus to change them.
"I have not heard one of my 10,570 constituents ask for us to change the name of Negro Creek, I can tell you that," says Lincoln County Commissioner Rob Coffman, referring to a creek that runs through Sprague.
"People can find offense in just about anything these days," he says. "To me it's not offensive."
However, he says, "If we had public outcry from residents, then, yeah, we'd be looking at that pretty seriously. But if one senator from Western Washington wants it changed then we're not going to spend a lot of time worrying about it."
Mark Schoesler state senate Republican majority leader who represents large swaths of eastern and southeastern Washington, wrote in an emailed statement that he hasn't heard an uproar from constituents about the issue, but is open to name changes if the public wants them:
"There is a complicated process in place at both the local and federal levels to change geographic place names. If the public feels strongly about changing the names in question, then I encourage them to follow that process. I've not received any complaints from constituents about potentially offensive place names, but if anyone in my district has an opinion on the issue, they should be a part of that public process."
But Jamie Sijohn, a local activist and member of the Spokane Tribe, says that she's supportive of the effort and takes special offense to the word "squaw."
"The word makes me think of the many horrors that my ancestors, especially my female ancestors, my great grandmothers, what they must have endured and survived," wrote Sijohn in an email. "The word comes from a hateful place, a hurtful time period, and said with hate. Why should this word continue to be allowed to be said in this day and age?"