ON INLANDER:

NEWS:
Assistant City Attorney Erin Jacobson resigns — here's the messy role she had in the Straub investigation
DRINKING AND RUNNING:
Train for Bloomsday with beer and some Prefontaine inspiration
NEWS:
Stuckart hits back at error-ridden Washington Policy Center transit column

MUSIC:
Get your Volume tickets
BOOKS:
U of Idaho professor taps his inner Stephen King for debut novel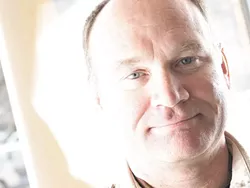 • Activists call for changes to sheriff's oversight board

At a community forum, activists said that a board that's supposed to advise the sheriff on disciplining officers
lacks independence
and needs and overhaul.
• Human skull found near disc golf course
A simple dog walk next to the river lead to
the discovery of a human skull.
Police are investigating.
• Trump campaign manager won't be charged
Corey Lewandowski, the campaign manger for Donald Trump's presidential bid,
won't face charges
over an incident where he grabbed the arm of a reporter who was trying to ask the candidate a question.
• Lawsuit to be waged over Arizona voting dust-up
Hillary Clinton as well as the Democratic Party
intend to sue Arizona
for drastically cutting the number of polling places that left voters waiting five hours in line to cast a ballot in the Democratic primary.
Speaking of Democrats, they had another presidential debate last night. Here's a taste: