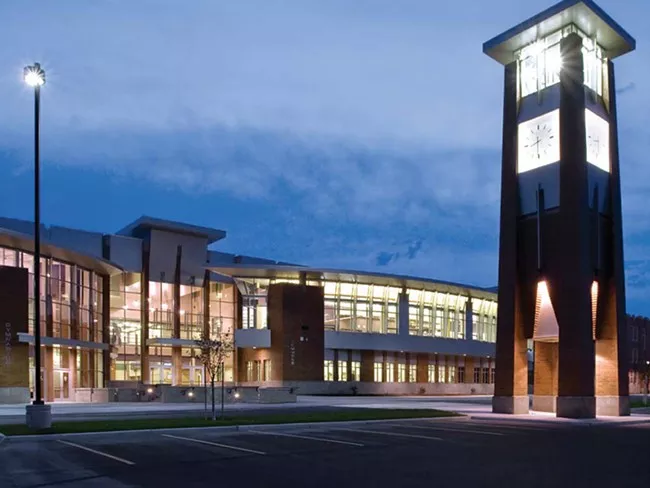 It wasn't too long ago, says assistant principal Marty Robinette, that Rogers High School only offered a few Advanced Placement courses. Today, he says it offers 17.
Soon, just about every 11th grader at Rogers will take at least one AP class. The school has received a grant from College Spark Washington — an organization that funds programs across the state that help low-income students — that will make AP English the default English class for juniors. It will be implemented as a three-year progression to allow for more training for teachers, but the idea is for all of next year's freshman to eventually enroll in the 11th grade AP English course.
AP courses offer college-level curricula to high school students. Students who earn high scores on AP tests can also earn college credit.
"We're just really trying to build that literacy base for our students so that they leave excellent readers and excellent writers," principal Lori Wyborney says.
No other school in Spokane Public Schools has made 11th grade AP English a default course, Robinette says. The grant is worth $150,000. It's an experiment that will examine whether making AP courses the default is a successful strategy in preparing students for college.
According to College Spark Washington, about 70 percent of Rogers graduates currently attend college, but only 11 percent graduate within five years. By making high-rigor curriculum the default path, Rogers will demonstrate the connection between high school rigor for low-income students (79 percent of Rogers students are eligible for free or reduced lunch) and completion of college.
There are some challenges in making an AP course the default for all students. For example, students with Individualized Education Programs in reading or writing — a significant portion of Rogers students — may have a harder time keeping up with the curriculum. The plan for those students, says Wyborney, is for them to have additional class time for support. So instead of a college and career readiness class, those students will use that extra hour for English and language arts.
Teachers will need more training in differentiated learning, meaning presenting the material in more than one way. That starts at the 9th grade level, Robinette says.
"It really should be about pulling the kid up and having higher expectations for them," he says. "It comes down to a belief system and the belief in the students and what they're capable of doing with the right kind of support."
Robinette says other schools will look to Rogers and see how the experiment plays out, positively or otherwise. He is optimistic.
"I think it will be evidence that this strategy worked, these things were in place and this is what helped it succeed," he says. "It definitely will be something that other schools in the state will be able to learn from."