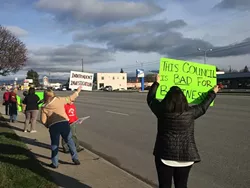 On Saturday, the
Spokesman-Review reported
that members of the Spokane Valley City Council may have violated the state's Open Public Meetings Act prior to the
firing of City Manager Mike Jackson
when Mayor Rod Higgins forwarded an email to Deputy Mayor Arne Woodard and councilmembers Ed Pace and Sam Wood.
You might remember that when the council majority forced out Jackson in February, other councilmen raised suspicions that some sort of open-meetings law violation had occurred. Those councilmen included Dean Grafos and Chuck Hafner, who both
pushed for an outside investigation
on the matter to no avail before
resigning
. The third member outside of the council majority, Bill Gothmann, finally got a proposed investigation on the council agenda, but it was not seconded and the motion died. Gothmann, too, will soon be leaving the council. (He has been filling in for Bill Bates, who is dealing with health issues and has resigned.)
The email in question came from David Wiyrick, a retired Spokane County undersheriff. Yesterday, the city announced six finalists for the two vacated City Council position, and guess who made the cut? David Wiyrick.
His email suggested that the council hire a public safety director to put the Spokane Valley Police Department under the control of the City Council, not Sheriff Ozzie Knezovich (the Valley contracts with the Spokane County Sheriff's Office for police services). It also suggested that Jackson would "need to be put under control" for this to happen. Wiyrick's email was sent to Higgins and Pace, and Higgins forwarded the message to Woodard, Pace and Wood — not Grafos or Hafner. You can
read the email here
on the
Spokesman's
website, but here's more from the story:
(Wiyrick) added, "Just my opinion and would need further study but I think this would be a good start to eventually forming a separate law enforcement police department."

When Mayor Higgins forwarded the email to the three council members he wrote: "Certainly something to think about. Perhaps another way to skin our cat. Would require a significant contract change."
Higgins has repeatedly denied that the City Council wants to terminate its contract with the sheriff's department. Pace has told the
Inlander
that the Valley forming its own police department would be "ideal," but that right now there isn't the money for it and it is not practical.
Wiyrick, like Pace, would rather the Valley have its own police department if "economically feasible." Wyrick, who left the sheriff's office in 2006, says the contract with the sheriff's office could be more efficient and should be looked at carefully. He also says his suggestion of having a public safety director could go a couple different ways. A public safety director, for example, could work under the city manager and manage all of public safety, not just police.
Wiyrick tells the
Inlander
that he would like to be selected for city council, but also thinks there needs to be more diversity, more "moderate people, not far left or far right," or a woman with a different perspective on issues.
"I think the six candidates, including myself, are all viable," he says. "I would appreciate being selected but I understand it would be good to have diversity on the council, too."
Interviews of the six applicants are scheduled during an open council meeting on Tuesday, June 21 at 6 pm. Here is a brief description of the other five candidates, taken from their applications:
Jonathan "Caleb" Collier
— a postman with a Bachelor of Arts degree in history. He's a former non-commissioned officer in the U.S. Marine Corps, and a precinct committee officer for the Republican Party. He lists Spokane County Treasurer Rob Chase as a reference and says he wants to address the public safety environment, infrastructure and promoting a business-friendly climate.
Pamela Haley
— a self-employed owner/part-owner of three small businesses. Her application lists Sen. Mike Padden and Sen. Bob McCaslin as references. She says she prioritizes efficient government, increasing public safety and increasing public participation.
Frank Hutchison
— co-owner of Hutchison Solutions and U.S. Navy veteran with a PhD in physics. His application focuses on improving city operations, attracting and supporting businesses, maintaining infrastructure, and supporting quality of life.
Michael Munch
— president of Able Construction with 20 years of experience in the construction industry. He was the treasurer of the Stevens County Republican party from 2012-2014. He says land use/ property rights, smaller government and a better disaster preparedness plan are top priorities and lists Rep. Matt Shea and Rob Chase as references.
Michelle Rasmussen
— director of parking and transportation services for Eastern Washington University and former administrative assistant for the city of Spokane Valley. She wants to continue economic development efforts, reduce property crime, and find money to bridge the Valley.
One notable applicant who was not chosen as a finalist is former councilman Ben Wick.
The city announced Thursday that it is now seeking applications to fill the seat that Bill Gothmann will be vacating soon.