As artist Ildikó Kalapács sits at her lengthy dining room table surrounded with her artwork decorating the walls, she describes her confusion stemming from an incident this week when Facebook management requested she take down some pictures of artwork featured on her page.
"I think it has something to do with a personal dislike, maybe someone who doesn't like me or my artwork, but I wouldn't know because the whole situation was secretive," Kalapács says.
When asked if she knew whether the reports came directly from Facebook management's attention or another user, she wasn't certain. All she was instructed to do by Facebook was to remove any picture that contained nudity. She then had to mark a checkbox stating she understood the terms and conditions of the Facebook community.
She reassured me the purpose of her art is not to degrade the human body but to celebrate it.
"People who know me know that I would not try to offend any gender or culture with my art," says Kalapács. "Growing up as a dancer, I like to explore other cultures and racial identities."
Kalapács points out a few of her pieces that were the cause of concern.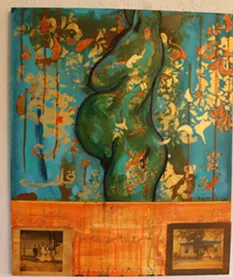 One painting is a side view of a nude pregnant female figure, which she tied in with actual ancient pictures of children sitting on a porch to illustrate the message of past norms when women birthed five or more children.
"My art is very abstract, it isn't defined by one meaning," says Kalapács. "I would never sexualize the human body or objectify it. All art is open for interpretation."
Another painting was of a nude male bodybuilder figure, which again included an actual ancient photo displaying the evolution of men's style and look.
Kalapács remembers a time when a similar situation occurred in Spokane regarding her artwork. Following her graduation, she created a large mural that was sponsored by the Arts Commission, which she says most people responded very well to. Shortly after the mural was displayed, Kalapács received handwritten hate mail from Christians calling it porn as well as radio stations saying it was disgusting.
"I was surprised because I see a lot of images that are inappropriate to me, such as violent images, war images or nudity," says Kalapács. "It baffled me that I can see women sexualized for advertisements or products in order to sell, but yet my artwork is inappropriate."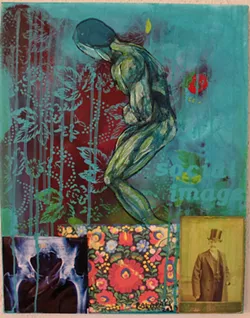 Growing up in Hungary until she was 22 years old, Kalapács knows censorship when she sees it. She describes Hungarian artists having to work underground and the cities plastered with WWII memorabilia and statues, with sexism being prevalent.
"To put it context — I grew up with censorship and saw how others suffered around me, so I would be the last person to show humiliating pictures to anyone," Kalapács says. "My feelings aren't really hurt, I'm just always shocked."
The main message she would like the public to know is that she is not the victim in this situation. Kalapács' wishes are that the public becomes more open to interpret
visual art for what it is instead of assuming a literal meaning.
"The main concept I would like to touch on is how there is a lack of visual art education in this country, so when people view it they might get the wrong idea and are not open minded to the true meaning of the piece," Kalapács says.