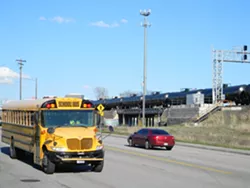 The Vancouver City Council unanimously voted last night for a ban on new oil refineries and facilities in its industrial zones.
The Columbian reports that the move by the council only affects existing and new facilities that take in an average of less than 50,000 barrels a day, meaning it won't have any bearing on the proposed Tesoro-Savage terminal, which would be the country's largest crude-by-rail project and would increase the number of oil trains passing through Spokane and other communities. Oil train opponents, however, say the council's vote sends a message to state officials, including Gov. Jay Inslee, who will give final approval or denial for the terminal.
"By taking this step, the City of Vancouver is standing up for little towns like ours who don't have the same power, but who bear the risks of oil trains just the same," said Arlene Burns — the mayor of Mosier, a town in the Columbia Gorge where an oil train derailed and went up in flames last month — in a statement.
In other oil train news, the U.S. Department of Transportation proposed a new rule that would require railroads to develop comprehensive plans to respond to oil spills, including the worst-case scenario. The new rule also requires railroads to share information with state and tribal emergency response agencies, including the routes and an estimate of the weekly number of trains passing through each county within the state.