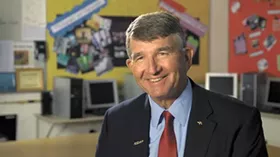 State Superintendent of Public Instruction Randy Dorn has threatened this year to take dramatic measures to force the state Legislature to fully fund K-12 education. First, he said he may
run for governor
. Then, he threw out the idea of
shutting schools down
entirely.
But Dorn's announcement today is more than a threat. Dorn has filed a lawsuit against the state and seven school districts in Washington, including Spokane Public Schools, demanding that schools stop using local levies to pay teacher salaries.
In a statement, Dorn says, "this is not a step I want to take," but that the Legislature has failed to fully fund education even four years after the 2012
McCleary
decision, a state supreme court ruling mandating the state do so.
Because of the lack of state funding, Dorn says, school districts use local levies to help pay teacher salaries. In Spokane, according to the lawsuit filed in King County Superior Court, these supplemental contracts add 12.49 percent of salary to teachers with 23 years of experience or less, and 14.69 percent to the salary of teachers with 24 years of experience or more.
These local levies, he argues, lead to unequal teacher pay across districts and allow wealthy districts to hire the best teachers. Dorn believes this is unconstitutional, so he's leaving it to the court to decide.
"Some may be critical of my lawsuit, especially those from wealthy districts who benefit from the status quo," he says. "As your state superintendent, I have not taken this step lightly. Instead of blaming the messenger, critics should demand legislators and the Governor fulfill the constitutional obligations they have shirked for too many years."
Besides Spokane, the districts named in the lawsuit include
Seattle, Everett, Bellevue, Tacoma, Evergreen and Puyallup school districts.

Kevin Morrison, spokesman for Spokane Public Schools, says no one from the district can comment until they have a chance to review the lawsuit. However, he says the district remains committed to the need for full and ample state funding of basic education, and says legislative action to fully fund basic education is "imperative."
Jenny Rose, president of the Spokane Education Association, says she doesn't think the lawsuit came at a good time. She says she is confused about why the lawsuit was filed in the first place.
"That's the part I'm struggling with. If the Legislature can't fund
McCleary
, how are they gonna fund this lawsuit?" she says. "I don't know if he's doing it for publicity, or publicity to fund
McCleary
, but I don't think it's the time or the place to be doing this."
She notes, however, that if the Legislature was fully funding K-12 education, then the local levies would not be necessary.
McCleary
mandates that a the state fully fund basic education by 2018. That includes funding of teacher salaries and raises by that time.
Last August, the state Supreme Court ordered the state pay $100,000 a day because of its lack of progress on funding education (that money is supposed to go toward education spending). The Supreme Court then ordered last week that the state show its progress in fulfilling the requirement. Lawmakers have already spent billions to address
McCleary
, but would likely have to spend billions more to fulfill the mandate.
In the lawsuit, Dorn — who is not seeking re-election this year — says use of local levies "enables the Legislature to evade its duty to amply fund education," and that they violate the state constitution.