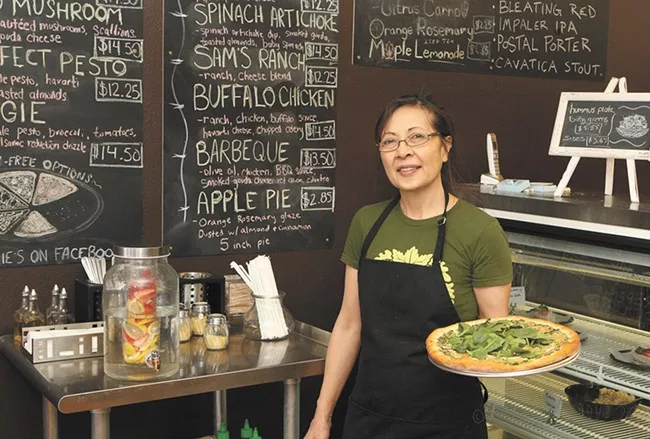 Chef Pavel Nosov, the head chef at locally owned,
much-lauded Allie's Vegan Pizzeria & Cafe
, recently emerged as a finalist in Round 1 of Vegan FoodService's Vegan Chef Competition.
Vegan FoodService is a California-based organization that works to connect vegan restaurants with sources for ingredients. In hosting this competition, the organization hopes to "provide innovative chefs a platform to shine with a personal twist on health and taste," as per its website.
In the first round, participating chefs had to prepare a
dish with ingredients requested from Vegan FoodService. Their resulting recipes were sent into the organization for judging in a variety of categories by a panel of three professional chefs.
Nosov advanced to the second and final round of the competition, along with four other vegan-food chefs, who were chosen from an entrant pool of 100. Three of the first-round victors hail from California, and one from Oregon. Nosov is the only Washington-based chef to advance to Round 2.
In early June, a fire engulfed part of the building that hosts Allie's Vegan Pizzeria, resulting in around $30,000 in damages and forcing the business to temporarily shut down. Owner Atania Gilmore hopes to re-open in a temporary location in September before hopefully moving Allie's back into its permanent home in December. Nosov's victory in the Vegan Chef Competition would be a bright spot in what has been a turbulent time for the pizzeria.
On August 4, Nosov will compete in the contest's second round at a live event in Daly City, California. There, he must prepare his entree — a vegan crab benedict he concocted with help from other Allie's chefs — on a presentation plate as well as on three serving plates, one for each judge, within a 60-minute timeframe. Asked whether he's nervous about cooking live in front of an audience, Nosov says nonchalantly, "I mean, that's kinda like what cooking at a restaurant is." If Nosov takes first place, he'll win a $1,000 cash prize; second place gets $500.
But more important than the cash is the recognition that Nosov could bring not just to himself, but to Allie's, and to the entire Spokane vegan food scene. The chef sees his duty as stretching even farther than that. "I'm basically representing Washington as a whole," he says. "I'll do my best."