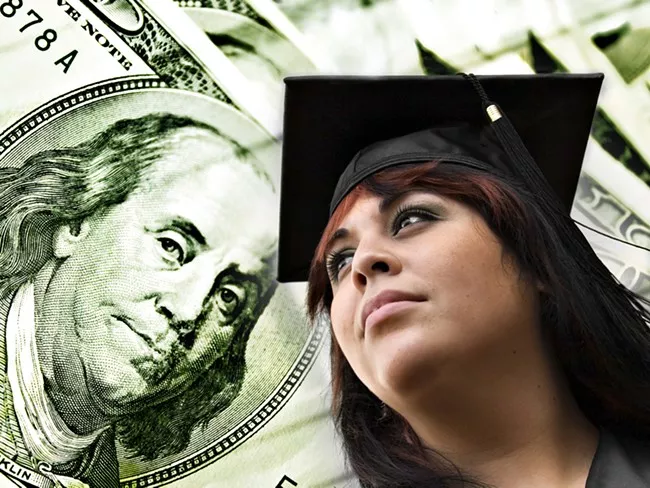 Don't skip class. Study hard. Pick a major. Graduate. Then, pay off the tens of thousands of dollars you owe in student loans.
If you used student loans from a university in Washington, however, you may have less of a debt load than other graduates. According to a new report released by LendEDU, borrowers in Washington who graduated in 2015 had an average debt load of $24,997 — about 12 percent lower than the national average of $28,400. Washington's figure is the 11th-lowest in the nation.
For comparison, the state with the highest averaging borrowing per student was Connecticut, at $36,865. Utah had the lowest rate at $18,772.
LendEDU is an online marketplace that helps students refinance their loans. The report was created using financial aid data from
Peterson's
.
As tuition nationally has steadily increased in the past decades, Washington, in its 2015-17 budget, became the only state to decrease tuition. Tuition was
reduced by 20 percent at Eastern
, Western and Central Washington Universities in the last two years, and by 15 percent at University of Washington and Washington State University.
But that doesn't necessarily mean less debt for students. Nate Matherson, co-founder and CEO of LendEDU, says cost of attendance should have a higher correlation with student debt. Cost of attendance includes tuition and fees, room and board, books, supplies and transportation.
The economic background of the students attending the college also plays a part in the average debt. Families with less money are more likely to borrow, he says.
At Eastern Washington University — with the lowest tuition in the state for any public university — the average debt per borrower was $23,748. But the University of Washington's rate was $2,500 less than Eastern's. (Washington State University's rate was $25,809).
The report found that private schools give students significantly more debt than public schools.
The debt per borrower is a different number than the debt per graduate. Nationally, the average graduate — students who both used and did not use student debt — had an average debt load of $16,033 in 2015.
Idaho and Oregon have higher rates of debt per borrower than Washington.
Click here
for an interactive map showing the rates.
Click here
for a breakdown by school.