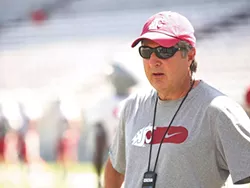 ON INLANDER.COM
•
A retired Spokane cop
is
suing the city
for violation of state public records law.
•
A Spokane County Sheriff's Detective's
social media posts about #BlackLivesMatter have
stirred debate
among local law enforcement.
•
Fitz and the Tantrums
with Phases stopped by Spokane this week. Here's what bassist Joseph Karnes had to say about their
rise to fame.
And here's our
review of the show
.
•
Peirone Prize
: Check out
this year's winners
of our annual Peirone Prize, given to local philanthropists who go above and beyond.
IN OTHER NEWS
•
Another WSU football player
was arrested for
assault
. He was reportedly upset that his Domino's pizza was taking too long (
Spokesman-Review
). Last week, we ran a story about
three other players
suspected of assault in a house-party brawl weeks ago. So far, no one's been arrested in that case.
•
At least 241 people
are dead after a
devastating earthquake
in Italy.
•
The inevitable politicization
of climate change in the
wake of this week's wildfires
. Gov. Jay Inslee and congressional Rep. Cathy McMorris Rogers weigh in (
Spokesman-Review
).
•
This year marks the 100th anniversary
of the National Parks Service, and
Washington is chock full
of protected land.