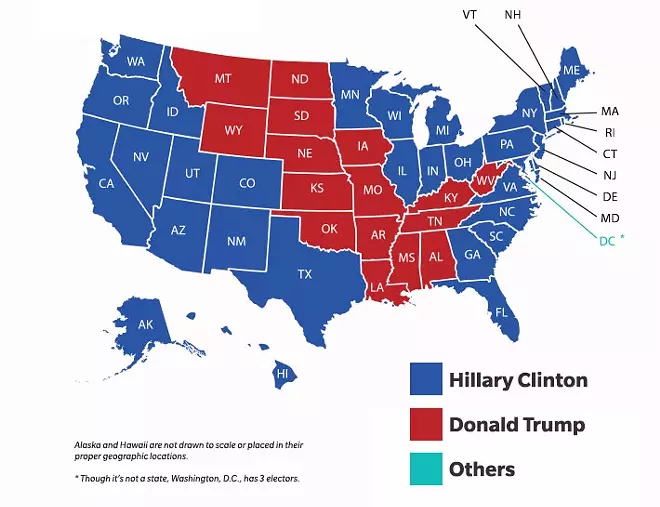 In Idaho, one of the most conservative states in the nation, 41 percent support Clinton, yet only 38 percent
support
Trump.
Similarly, in just-as-conservative Utah, Trump is in third, with only 27 percent, trailing both "Others" 29 percent and Clinton at 44 percent.
We should be clear: We're talking about
kids
, here. Nearly all of the respondents to this poll can't, technically, legally vote. Every election year Scholastic, the same company that does the book fairs, conducts the
Scholastic Student Vote
. Kids from Kindergarten through
12th grade
vote online or mail in paper ballots with their presidential choices.
Now, these types of polls aren't scientific, as Scholastic makes very clear. It doesn't use valid sampling techniques, so while it appears to be slightly better than the sort of worthless online
Drudge Report
poll Trump likes to champion
,
it's not something we can draw all that many conclusions from.
For example, it's possible that more kids in cities get the Scholastic magazine than schools in
rural
areas, which would tend to bias the results toward the Democrats. In fact, it's downright likely that a disproportionate number of kids who would go through the trouble of voting in the Scholastic Student Vote would have college-educate
d parents. This year, unlike many others, the college-educated vote is tilted very heavily against Trump.

Still, as Scholastic points out: "Since 1940, the results of the student vote have usually mirrored the outcome of the presidential election. In fact, Scholastic readers have been wrong only twice. In 1948, kids picked Thomas E. Dewey over President Harry S. Truman. And in 1960, more students voted for Richard M. Nixon than for the eventual president, John F. Kennedy."

And it's interesting for two reasons: First, the politics of young kids often mirror the politics of their parents. For example, my parents were conservatives growing up, so I "voted" for Bob Dole in the straw poll at my elementary school in the 1996 presidential election.

Like Utah, southern and eastern Idaho has a high Mormon population. Mormon parents tend to have more children — an average of 3.4 kids per family — one study found. And Mormons hate Trump. At Trump's nadir, it almost looked like a previously unheard-of Mormon independent candidate appeared likely to snatch Utah away from Trump.

Second, the poll highlights the generational and demographic challenge that the Republican Party faces.

College-age kids, of course, tend to do be much more liberal than their parents. But the gulf is particularly large during this election. About 49 percent of voters ages 18 to 29 favor Clinton. And Trump? Only 21 percent. Idaho is actually one of the only states that would vote Trump if only Millennials voted.

And studies suggest that voters generally stick with the party they first register with, even as they get older. That's not even considering the influx of legal immigrants and the shift toward a minority-majority nation. So in a few actually scientific polls earlier this year, Texas was a toss-up. Texas!

This concern was exactly why the Republican Party, after their 2012 defeat, published an "autopsy" about how the party needed to draw in minority voters. Trump defied recommendations so flagrantly that a co-author of the report, Sally Bradshaw, literally left the Republican Party.

Idaho and Utah and Texas remain red states. But not, perhaps, forever.