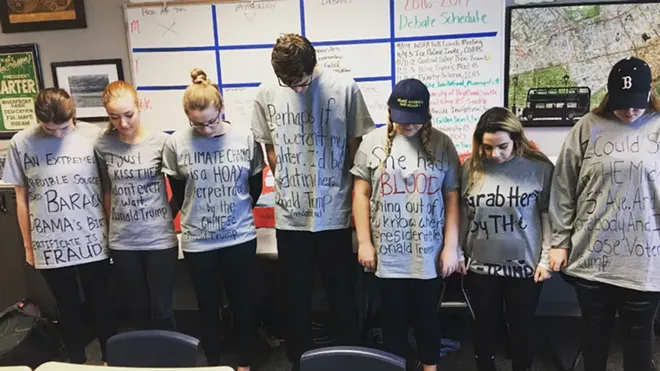 The votes are in and the election is over. The 2016 president-elect is Donald Trump, who will be the leader of the free world for the next four years.
In this year's extremely contentious and long election cycle, the American electorate is more divided than ever. Although many individuals are celebrating Trump as their candidate of choice, many others are grieving over what a Trump presidency may mean for them and their families.
<!—————StartFragment—————>The question of "what happens now?" seems to be particularly prominent among young people. Their answer seems to be inexplicably linked to fear for America's future. On Twitter, a viral collection of tweets
titled
"Day 1 in Trump's America"
illustrates some of the alarming concerns his election has triggered.
Since the evening of Nov. 8, we've also watched students at universities across the country — and close to home — protest or mourn the election of Donald Trump:
• Washington State University students
protested
• Central Valley High School students
wore t-shirts with anti-Trump sentiments

• Western Washington University students
marched to downtown Bellingham
• West Seattle High School students
staged a walkout

• University of Washington students
protested
• Gonzaga University students
expressed shock


Regional university presidents also released statements:
•
Ana Mari Cauce, University of Washington

•
Kirk H. Schulz, Washington State University

•
Sabah Randhawa, Western Washington University
Although these protests may indicate to some that millennials were overwhelmingly in support of Hillary Clinton, data on millennial voting in the 2016 election shows that many did not vote for the Democratic candidate.
According to a CNN politics poll,
USA Today
found that among 18-24 year olds, 56 percent voted for Clinton and 35 percent voted for Trump.
Whatever reactions students are having, and however they are feeling about the election results, they can rest assured knowing that they are not alone — whomever they voted for.