Last night, as just that early morning Donald J. Trump was named the president-elect, some of us were tired. But
Sturgill Simpson
didn't care about how exhausted our brains and bones felt, he was back at the Knitting Factory to blast us with his impeccable alt-country tunes, a genre that is especially
hot right now
. Along with his insanely talented seven-piece backing band, Simpson took the adoring crowd on a two-hour-plus ride full of old favorites and the entirety of his April release,
A Sailor's Guide to Earth
.
The show kicked off with high-flyin' "Sitting Here Without You," which showed off Simpson's brass section to full effect, even taking things to an almost jazz band-type level. Simpson is blessed with a voice that normally stays at a low rattle, and then, almost unexpectedly, booms into an upper register. Listening to him felt warm and rich, but it wasn't always easy to understand his mumbling lyrics and when he spoke to the audience, which was rare, this was only exacerbated. Anyone who expected him to speak up about the election results — he's been known to speak his mind so fervently when it comes to Nashville elites — was left disappointed.
While the show was held at an all-ages venue, the am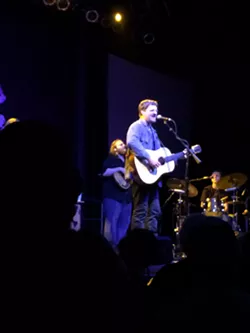 ount of people under 25 was pretty much nil. If anything, this was a show for 30-somethings — folks now in that stage of life that many of Sturgill's songs reflect on, family and kids (his newest album was essentially a field-guide for his newborn son). I'm not here to say that this isn't music for women, there were plenty of females in the audiences, but Simpson's songs allow men to feel things deeply while still feeling masculine. So many of the 30-something men around me sang at the top of their lungs to tunes like "Life of Sin" and "Living the Dream," as they've most likely done in their cars and homes when they think no one else is listening.
Perhaps most miraculous of all is that Simpson was able to do something Republicans and Democrats haven't been able to do successfully in the last couple days: He brought people together. Clinton and Trump voters alike stood in one packed-in room basking in the power of music. There were the good ol' boys with their camo trucker hats and large belt buckles standing next to people wearing Bernie shirts. Some couples two-stepped in time to the songs while others wrapped their arms around each other and swayed. In this room no one was defeated or lesser.
Simpson, who mostly used his acoustic guitar, played a few covers throughout the night, including Led Zeppelin's "When the Levee Breaks," and Nirvana's "In Bloom." His cover of "When In Rome's "The Promise," which he said was "for the ladies," brought out the low and slow. Moving into playing the
Sailor's Guide
in its entirety, the audience gasped at the beauty of the piano intro to "Welcome to Earth (Pollywog)."
While the band continued to play miraculously, there was a point around 11 pm that I wondered if I was about to fall asleep on my feet, but then came the end. Playing the final song, "Call to Arms," life shot through the veins of the audience members (the ones who hadn't ditched yet). It was a wall of sound coming at us from the stage with the horns going hog wild and amazing guitar solos. People shouted in appreciation. When the final chord came people didn't want it to stop, but Simpson and his sweaty crew had nothing left to give. This was the end and we all had to accept it.