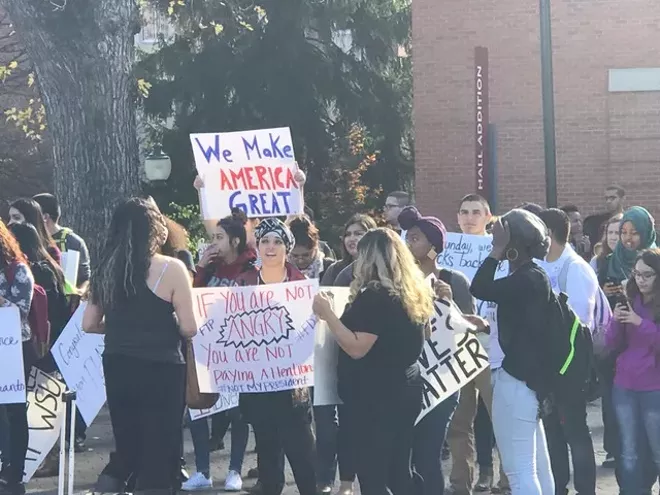 As a small group of supporters of Donald Trump waved an American flag, a throng of protesters chanted at them on Wednesday afternoon at Washington State University.
Protesters carried signs that said, "Not My America" or "Not My President." Trump supporters reveled in his victory, engaging in a loud but peaceful back-and-forth with protesters.
"It's amazing," said James Allsup, president of the WSU College Republicans. "It's a hard-knock campaign and I respect everybody involved in the process. I know how stressful it can be to work in politics… And how much it can hurt to lose. Hillary gave a great speech this morning and how we need to come together."
As ballots continued to be counted, Whitman County appeared to be the only county in eastern Washington that voted for Democratic nominee Hillary Clinton. Late Tuesday, Clinton led Trump 48.6 to 44.1 percent in Whitman County. More ballots are expected to be counted on Thursday.
College voters preferred Clinton by a wide margin this election, according to the Pew Research Center analysis of votes, but she received a smaller share than President Obama did in 2008 and 2012. Many Clinton supporters on campus were stunned by the outcome.
"Our system's broken," said Quiara Johnson, a 20-year-old student in fashion merchandising and marketing.
Student Franklin Ramirez called Trump's win "ridiculous," and said Trump could not understand the struggles of the typical voter.
"A word of advice, get out there and take those offices," said Ramirez, a senior studying psychology and criminal justice. "That's the only way we're going to see change … This is not the end. This is just the start of the fight."
Sam Harris, a 21-year-old anthropology student, expressed no strong affiliations but watched the protest.
"I want to maintain the peace and make sure no one gets out of line," he said.