Some in the community may find themselves alone this holiday season, for a host of reasons: those who are homeless, orphaned, widowed, or financially unable to travel, those who don't want to spend the season with their family, or those who are voluntarily trying the holidays unaccompanied. Alone, you'll often find yourself dealing with the difficult task of figuring out what to do when everyone else, it may seem, has plans. The following suggestions offer some solutions to make the holidays a little brighter to those flying solo:
Places to eat a holiday meal
Scratch Restaurant
, in downtown Spokane, is open on Christmas Eve from 4-7 pm. Reservations are highly suggested.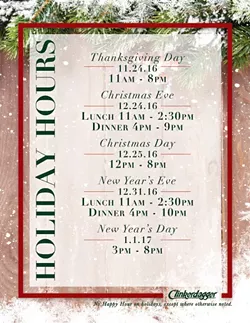 Clinkerdagger
, a classic locale for special events, is open Christmas Eve from 11 am-2:30 pm and 4-9 pm, and on Christmas from 12-8 pm. Reservations fill up quickly during the holidays.
Safari Room Fresh Bar & Grill
at the Davenport Tower is open every day 6 am to close, including Christmas Eve and Christmas.
Places to volunteer

Volunteers of America
offers special volunteer opportunities for the holidays, including a two-hour shift wrapping donated gifts and the chance to contribute a dish to a holiday meal. More information and items to donate are available on their website.
Union Gospel Mission
needs all the help they can get this winter and is asking for short-term volunteers to serve meals to the hungry. Contact Laurie at 532-3809 to find out how you can get involved.
The City Gate
needs extra volunteers to serve meals on Christmas. Contact them to fill out an application.