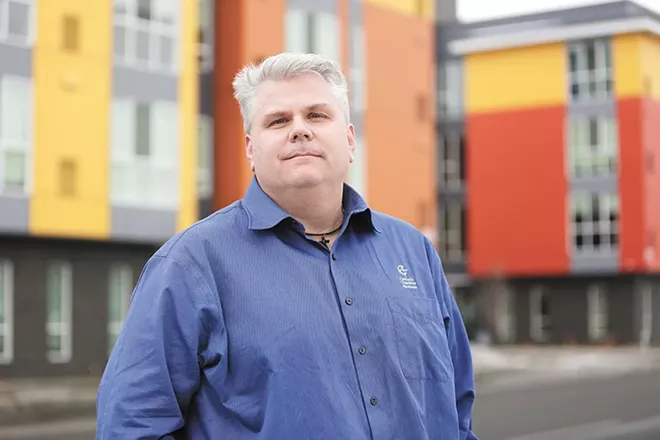 "Please, for the love of God, don't give money to panhandlers," says Rob McCann, director of Catholic Charities.
This, mind you, is not coming from a cold, heartless businessman. This is coming from the director of one of the agencies in Spokane
that's
fought the hardest to reduce homelessness.
McCann is a key figure in
our story this week
, where he talks about how close Spokane is to solving homelessness by not just providing shelter, but actually providing homes. Shelters like House of Charity have dramatically expanded the number of homeless people they shelter. But as generous as House of Charity is, they draw a clear line when it comes to certain panhandlers.
"If we know that you are a chronic aggressive panhandler,
we will not serve you food
at the House of Charity. That's hardcore!" McCann says. "We serve
everybody
at the House of Charity."
The organization generally won't give an apartment at a place like
Father Bach Haven
, either, McCann says. It's proof of how much McCann views panhandling as a destructive act, both to those who panhandle and to the community as a whole.
There are only about one or two dozen panhandlers working the streets of Spokane, McCann says. Catholic Charities generally knows who they are, he says, where they live and the tactics they use.
"They're not interested in what their sign says," McCann says. "
They won't actually 'kill your ex-wife for a dollar.'
The funny signs, the just-looking-for-a-job signs, the stranded-in-Spokane-need-bus-fares signs, what we have found is that in 90 percent of those cases are lies."
Lately, McCann says, the strategy for some downtown panhandlers has evolved in an even darker direction.
"Yeah, a funny sign might get you more money. You know what gets you more money lately is you have a dog. You know, what's better than a dog? An emaciated dog. So go get a dog, and don't feed it, so you can see its ribcages.
You know what's better than an emaciated dog, that will get you more money, if you're a panhandler? A dog with a limp
," McCann says. "So go take your dog, put it in the door, and slam the door shut, and
break the dog's leg
. Now you've got an emaciated limping dog and a 'homeless' person. What minivan is going to say no to that? It's marketing genius!"
McCann says he knows for a fact that actually happens. A lot of homeless people have animals that take care of them, he says. But he knows of actual animal abuse that has taken place as a way for people to get more money panhandling in order to feed their addiction.
And he brings it up as a way to persuade people not to give money to panhandlers.
"This is a community that loves animals," McCann says. "If I can't convince them
on
a
human dignity argument, let's go and play the animal card
, I guess."
Oftentimes, the issue of panhandling is seen a debate between irritated businesses and compassionate advocates. If you really care about those in need, the thinking goes, you should oppose regulations that crack down on panhandling.
But from McCann's point of view, the opposite is true. The people with the best of intentions are creating the worst of outcomes.
"They're good-hearted people with the best of intentions and wonderful compassion, and they're doing the absolute worst thing they can do with those people," McCann says.
"
All they are doing is condemning them to another 24 hours in the
horrific
addiction cycle... All it's doing is helping them buy
ammunition for people to shoot themselves
. Literally. And figuratively.
"

Giving money to panhandlers actually
dissuades
panhandlers from seeking the help they need, McCann argues.
"They can make 75 bucks a day panhandling. And that's enough to feed their addiction," he says. "
The best addiction counselors in the world will tell you that if somebody's got $75 a day in their pocket, that person is going to be hard to help.
There's no incentive for them to stop using."
While they're still receiving money for panhandling, McCann says, many panhandlers are beyond help.
"
The only thing we're waiting for now is for you to die,"
McCann says.
"
Because you will ultimately die from your addiction. You'll overdose. You'll have medical conditions from your addiction."
McCann, of course, doesn't
want
panhandlers to die. He wants them to get better. But they generally refuse help, and with so much need out there for people who
do
want help, Catholic Charities focuses its limited resources elsewhere.
"
Most [panhandlers] are already housed. What they need is substance abuse treatment. They need detox,"
McCann says. "I would much rather
them
be in a detox bed, working out their
issues,
than flying a sign on Division."
And if they truly sought help, McCann says, Catholic Charities would put them first in line to get help.
"If every panhandler in town came into my lobby today and said, 'Get me into detox, get me into housing, and I will stop panhandling,'
I would transfer as many Catholic Charities dollars as needed to get them into detox
tonight,"
McCann says.
"
Because that would do more bang for a buck for social services than anything.
Yet the desire to give money to someone in need is a very human one. Compassion is a good thing.
"If your kids are in the back seat, you want to teach your kids a good lesson. But the better lesson is: Go pick your favorite charity and volunteer.
Go pick your favorite charity and give them the dollar.
That's a much better use of that money."
Lately, there's been an effort from the Downtown Spokane Partnership's "Give Real Change" campaign to make it easier to direct your compassion toward productive areas.
Mark Richard, director of the Downtown Spokane Partnership, says that he knew a woman who came up with a clever way to harness the impulse to give to panhandlers.
"This woman's solution, I thought was ingenious," Richard says. "She creates what she called a '
Care Cup.
'"
Every time she passes by a panhandler she and her kids put change in that cup. And after the cup begins to fill up, she and her kids go down to the charity of their choice and donate it directly.
"They get that immediate—" Richard snaps his fingers, "—emotional comfort. And they know they're helping, but they're not creating some of the negative consequences."
DSP is considering offering their own branded Care Cups for people to use. In the meantime, he suggests you grab a cup from the cupboard to use as your own. Or, between now and May 31, every time you see a panhandler, you can text "Change" to 50555 to automatically give a $5 donation to the House of Charity.
DSP has also created a
Homeless Resource Pocket Guide
you can print out in order to direct people to services they may need.
Finally, it's partnering with Goodwill and other agencies for a project called Hope Works, aimed at helping panhandlers directly. A van will drive around and offer actual work to panhandlers and other people downtown who might need it.
"It could be doing landscaping. Could be doing
painting
. Could be doing things like cleaning or removing graffiti," Richard says. "The biggest value is not in daily stipend. The biggest value is being in a van with a professional social worker."
That social worker will help them address underlying issues they might have and, hopefully, eventually help them find a more permanent job.
And
that,
the thinking goes, is the sort of change that panhandlers actually need.
McCann, meanwhile, supports the city cracking down on aggressive panhandlers, though he knows it's unlikely to be a top priority.
"We should arrest those people! They shouldn't be panhandling," McCann says. "All they're doing is helping people to further
villify the homeless population
. Because they don't represent who are clients are at House of Charity."
After all, think of homelessness and what do you think of, instantly? You think of the guy standing in the corner, with a grizzled beard and a cardboard sign, hitting you up for change. But McCann says that's a wildly inaccurate assumption. The panhandlers and the homeless are usually two entirely different populations.
"The reality is the
panhandlers in our community are not the homeless.
They are professional panhandlers, who all live in apartments downtown," McCann says. "Some of these panhandlers make more money in a day than some of our Catholic Charities staff makes working 40 hours a week."
It frustrates him how these people, and those that refuse shelter and sleep outside downtown, create a false impression of the homeless.
"They are outliers," he says. "They are the 1 percent of the 1 percent. Yet
they are painting the tapestry for the entire homeless community,
the way the public sees them. I need them to stop painting that tapestry."
Ultimately, he says,
conflation
of the homeless with panhandlers hurts the homeless in a profound way.
"That doesn't help. Because then everybody driving by, says, oh, 'All those homeless people in Rob's House of Charity, they're all like that guy on Division that just flipped off my 8-year-old daughter'," McCann says. "That's a
death-blow to social services
."