The week before the Grammy Awards, Zuill Bailey says he felt like he had been "strapped to the front of a freight train" — from the build-up since the nominations were announced, to the red-eye flight from Alaska to Los Angeles, to the well-wishers popping up on his phone. So how does he feel now that he has one of those little golden gramophone statues for his mantle?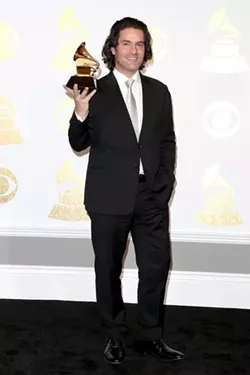 "Such exhilarating chaos… nonstop for 12 hours," Bailey texted after winning Best Classical Instrumental Solo on Sunday night. "The Grammys were electrifying."
Bailey has been music director of the Northwest Bach Festival in Spokane since 2014; his 2017 festival kicks off next Tuesday, Feb. 21.
"Tales of Hemingway" was a Grammy darling, winning three — for Bailey's solo cello playing, but also for Best Contemporary Classical Composition and Best Classical Compendium. The piece reflects composer Michael Daugherty's "obsession," as Bailey puts it, with Ernest Hemingway and depicts several of his novels and stories. Daugherty recruited Bailey to be his cellist for the piece and wrote it with his skills in mind. Bailey will perform "Tales of Hemingway" as part of the festival, on March 2 at Barrister Winery.
As critic Nick Barnard described it in his review on MusicWeb International, Bailey exhibits "total technical security," in the performance, "but also a willingness to push the expressive envelope with
playing
of a very wide dynamic range and great tonal variety."
"Psychologically, I am bound to this piece," Bailey says. "Most things we play, we're reinterpreting the past. This is new music. This was written for me. This is the present and the future, and that excites people."
The story of the recording is a bit harrowing, as Daugherty wanted the Nashville Symphony to record the premiere performance in April of 2015.
"I only had three or four weeks to get it ready," Bailey recalls. "In fact, I learned the piece in the Davenport Hotel, during the Bach Festival. Then, at the premiere, things were being changed right up until I walked on stage."
Another fun fact: They had to redo the final bars of the piece.
"At the end of the performance, the audience went berserk," Bailey says. "Michael walked out on stage, and one of us said something like, 'Well, we've really got something here!' Then they evacuated the hall so we could re-record the final 15 seconds.
"Knowing that every note I played would be forever, you have to deal with that fear," Bailey says. "But really, I had been practicing for that moment for 40 years."