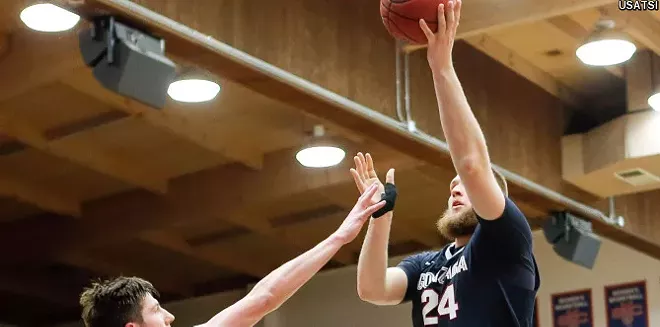 As we hit mid-February, it's time to turn our full attention to March Madness (with all due respect to my fellow baseball fans geeking out over the start of spring training with pitchers and catchers reporting this week).
Here in the Inland Northwest, that means tracking Gonzaga, obviously, who received one of the four No. 1 seeds in the NCAA's first-ever preliminary seeding announcement over the weekend, but also Eastern Washington, Idaho and Washington State, who all need to make a run through their conference tournaments to get into the Big Dance.
Let's break it down:

GONZAGA HAS A CHIP ON ITS SHOULDER
On Saturday, the NCAA revealed its first list of the tourney's top 16 seeds, a blatant attempt to build up the hype to Selection Sunday. Obviously those seeds will move around a lot between now and the end of the conference tournaments in early March, but the big news was that
Gonzaga got a preliminary No. 1 seed
— but was only the No. 4 overall seed, behind Villanova, Kansas and Baylor.
That, of course, got some Zags fans up in arms about being "disrespected" by the selection committee. Whatever — does anyone ever remember who the No. 1 overall seed is after March Madness gets going? Nope. Getting a No. 1 seed and winning the West Coast Conference remain the Zags primary goals, and they got a step closer to that Saturday when they went to St. Mary's and
beat the Gaels for the second time this year
. The Zags are now
two games up on St. Mary's
with four games to go, including games this week against San Francisco and Pacific in The Kennel.
But if acting "disrespected" gets the Zags the edge they need to roll into March Madness feeling like underdogs — great. Until then, they're still
No. 1 in the country
in the AP poll.

IDAHO, EWU SPLIT GAMES ON THEIR ROAD TRIP
Both the Vandals and the Eagles took on Northern Colorado and North Dakota in their past two games, and both of them lost to North Dakota and took down North Colorado. Where does that leave our two area Big Sky teams? About where they were a week ago,
just below conference leader Weber State and behind North Dakota
.
Both teams have five games left in the regular season to solidify their spots before the conference tourney in Reno, and they play each other on Friday night at 6 pm in Cheney in what's sure to be a highly entertaining game.

WAZZU SCUFFLES IN THE MOUNTAINS
Washington State has had some moments of success this season, but their tendency to be inconsistent was obvious in their two games against Utah and Colorado.
In Salt Lake City Thursday, the Cougs almost got revenge for an embarrassing home loss a few weeks previous before losing 74-70. On Saturday, though, they got thumped by the Buffaloes 81-49, a disappointing turn after they'd beaten Colorado earlier this season.
The Cougs are sitting
tied for ninth in the Pac-12
, have lost four straight and face No. 5 Arizona in Pullman on Thursday.