ON INLANDER.COM
WHAT'S UP:
Whether you're a big fan o' Irish culture, a music lover, or a math nerd/pie enthusiast, this is a week to celebrate: Local Pavlov and Dry and Dusty are dropping albums, check out an array of pie- and Pi-themed (3.14) activities on Tuesday (3/14), don't miss a St. Paddy's Day Pub Crawl after a Gaelic-themed show on Friday, and more!
FOR FUN!:
You may see "pussy hat" beanies less often as the weather finally warms up, but a
Pullman artist's "cat power" T-shirt design is gaining ground and raising thousands
for national and local nonprofits.
LAST WORD
: "Girls can't do math," "girls aren't engineers..." — No, says
Grace Kim, a Spokane Valley high school student who wants to shatter gender stereotypes on her journey to space
.

IN OTHER NEWS

Dismiss and displace
Republicans are going to great pains to downplay the Congressional Budget Office's upcoming analysis
that will likely conclude that many more Americans will be uninsured under the proposed "repeal and replace" health care plan than under Obamacare.
Read more about what exactly is in the proposed bill,
and
the five numbers to look for in the CBO's analysis
this week. (
New York Times,
CNN)
That'll be all, thanks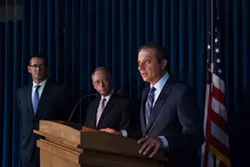 The Trump administration ordered 46 Obama-era prosecutors to resign on Friday in a surprise sweep
. While it's not unusual to clean house like this, the
New York Times
reports that the decision seemed to follow a Fox News segment in which Sean Hannity said Trump needed to "purge" these potential info leakers and "saboteurs"
from the "deep state."
(
New York Times
)
Beyond "bad hombres"

One
Pasco couple built a strong business and a close family despite their immigration status
; now, they worry about what's next. (
Spokesman-Review
)

All together now

Maryland will join several states in the Washington state lawsuit targeting Trump's travel ban
(both the old and new version) on people from several predominantly Muslim countries, contending that it's unconstitutional. (
Spokesman-Review)


Have a great week!