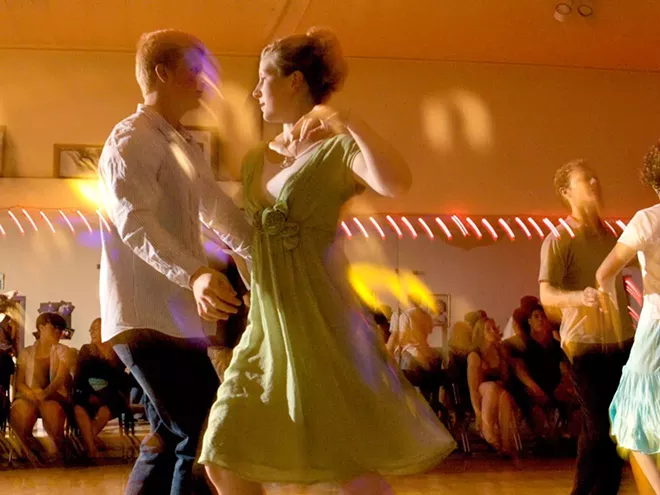 Right now, the mere act of allowing dancing triples licensing fees for Spokane entertainment venues. On Monday, the City Council will consider changing that, as well as an 80-year-old "immoral or obscene dancing" ban still left on the books.
City Council President Ben Stuckart proposed leveling entertainment licensing fees and removing the 1937 dance
ban
.
"How do you even determine what is immoral or obscene?" said Adam McDaniel, Stuckart's legislative assistant. "A lot of people would say my dancing is obscene."
When piecing together ordinances to regulate cabarets in 1937, A.B. Colburn, City Commissioner at the time, told the
Spokane Daily Chronicle
that his original intention was to halt dancing in saloons. Dancing on Sundays was also banned at the time. But Colburn was not strictly opposed to all dancing and drinking, as long as the two were separate and done at a place and time he thought was appropriate.
"If a decent
dance hall
is operated adjoining a beer parlor, that is a different matter," Colburn told the
Chronicle
. He did not want people drinking and dancing at the same time.
The Spokane Federation of Women's Organizations staunchly opposed the measure, saying alcohol and dancing should be entirely separate, and that allowing cabarets to earn licenses unfairly favored their generally upper-class patrons.
"The women of Spokane will do all in their power to prevent the mixing of beer and dancing," the Federation's president told the
Chronicle
. "I do not think it is right to allow the rich to have what is denied to the poor."
Despite the bygone era's women leaders' opposition to the licensing ordinance, the Spokane Woman's Club now pays the $300 annual cabaret license fee, according to the City Finance Committee, which is three times as expensive as licensing fees for entertainment venues that strictly provide music and entertainment and do not explicitly allow dancing.
Stuckart's proposed ordinance would level the prices for entertainment licenses across the board, bringing the price down to $100 from $300 for teen clubs, all-ages clubs, and venues that allow dancing.
McDaniel said making the licenses more affordable would be a win for the arts and a win for event hosts.
Adam Wallstein, president of Local 105 of the American Federation of Musicians and the Spokane Symphony's principal tympani player, said that putting on a show is already very complicated for the hosts, as they are required to comply with national agencies protecting copyrighted music.
To have that going and a complicated regime with the city turns it into a national headache," Wallstein said. "Some say, 'To heck with all of this. It is too much of a nightmare.'"
He said that some owners worried about complying with licensing and copyright laws sometimes decided against having live music, just to avoid the liabilities.
If dancing spontaneously broke out in a venue where it was prohibited, Wallstein said, the owners could be subject to $200 more in licensing fees.
"It is a fee I don't think is very well understood," McDaniel said.
Additionally, the ordinance would remove the stipulation that only disc jockeys can play prerecorded music.
The city would bring in $7,000 less in revenue from licensing fees if the ordinance passes, according to the finance committee.