"Are you positive?" "Have you been tested?" neighbors and friends asked each other as they filed into the bleachers at Medical Lake High School on Tuesday evening.
They weren't talking about some disease, but about their drinking water.
While some there had already had their private wells tested for chemical contamination, possibly linked with firefighting foam used on Fairchild Air Force Base for more than 40 years, others lived close enough to the base that they wondered whether they needed to have their water tested, too.
Many were among the more than 8,000 people whose water comes from Airway Heights, which had two of its main well systems test high for the chemicals last week, and has been providing bottled water for residents while trying to flush the contamination from the city's system.
While waiting for the 6 pm meeting to start, people who'd never met casually compared serious medical issues they'd had in the past. Was their pancreatic cancer linked with the drinking water? What about the mysterious ulcers they couldn't figure out? If they seem to be sick all the time, could that be related?
With news of the emerging contaminants PFOA and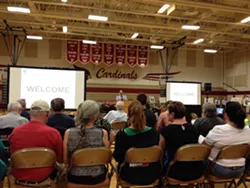 PFOS being found in higher-than-recommended concentrations in their water, every malaise seems subject to scrutiny, and Tuesday's meeting revealed few answers as to whether specific health issues and the chemicals are interconnected.
F
airchild Col. Ryan Samuelson, Commander of the 92nd Air Refueling Wing, started the meeting with a prepared speech, spending about 20 minutes explaining his commitment to transparency as the process of testing moves forward, giving an overview of what was going on, and trying to combat misinformation.
"You deserve to know what we know, because this is a concern for all of us," Samuelson told the crowd.
While the testing that Fairchild started in April raised questions about how long the Air Force had known the chemicals were an issue, according to other experts at the meeting who have been involved in systematic testing at other bases around the country, Fairchild has been one of the fastest to release information to the public.
Rather than wait for verified results, as soon as preliminary tests showed higher levels than an Environmental Protection Agency health advisory recommends, the base alerted well owners and started providing water for them. Samuelson has committed to getting information out quickly and answering questions.
That said, after about 45 minutes of hearing from different experts Tuesday night, with no opportunity yet given to the crowd to ask questions, Julie Dibble —
one of those first residents affected, who we wrote about in last week's issue
— shouted out a question, wondering when filter systems or other long-term solutions would actually be given to them.
Another person shouted out from the other side of the auditorium, and then another.
The expert up at the mic at the time, Dr. Brian Howard of San Antonio, a member of the Air Force's PFOS/PFOA team, tried to quietly answer Dibble's question.
He told her to contact the base and they would set up a filter system for her family, and then told the crowd that all their questions would be answered individually after the presentation, when people would get the chance to walk up to several experts staged around the gym, standing next to poster-board diagrams and handouts.
"We all want to hear the answers!" more than one person said. Howard passed the mic off to the next speaker.
HEALTH
The health effects of PFOA and PFOS haven't been studied extensively enough yet, said representatives from the Washington State Department of Health, but there have been studies that linked the chemicals with low birth weights, kidney and testicular cancers, and immune issues.
Virtually everyone in the U.S. has some level of the chemicals in their blood, explained Lauren Jenks, director of the state's Office of Environmental Public Health Sciences.
That said, "If you have been drinking water with higher levels, you are likely to have higher levels in your blood," she said.
It looks like once people switch to drinking water without those concentrations, the blood levels of those chemicals come back down, she said.
Some had asked her before the meeting whether gardening and watering vegetables with contaminated water was a good idea. While the chemicals were likely to be in the soil if they were in the water, and could get into the vegetables, in her public health opinion, Jenks said, the health benefits of getting outside and tending a garden, and of eating vegetables, likely outweighed the small amount of contamination involved.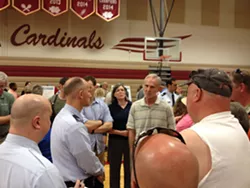 QUESTIONS
After the meeting, dozens of people waited in line to fill out blue cards with their addresses, volunteering their information to see if the Air Force would come test their water.
Whether or not their systems are tested by the Air Force will depend on how the water experts involved say the groundwater underneath the surface moves, and the distance from a property to a crash site or testing area, all factors that should point to how likely that well is to be contaminated.
While waiting in line to turn in her card, one woman who lives north of the base said she had already paid a local lab $250 to analyze her water. She'd had to follow strict guidance to take a sample: since the chemicals have been used in a variety of commercial applications, from food wrappers to sunscreens, clothing to carpet, she had to make sure that nothing of the sample came into contact with any of those things.
She hoped if the test came back positive that the military might reimburse her, but knew that was a long shot. Still, she said, when it comes to your health, you need to know.
Other people made their way to the different displays, asking about the aquifers, runoff, and communication with people who had lived on base before this information came out.
Standing in front of a map of Fairchild and surrounding roads, one expert told a group of five or so that just because water may run off in a certain direction on the surface, does not mean that the water underground moves that same way.
AIRWAY HEIGHTS
The city of Airway Heights has submitted new samples to be analyzed to see if the flushing of millions of gallons of water through their system over the past several days has solved the contamination.
They're hoping to get those results back late this week, but Kevin Anderson, director of the city's Public Works department, said he's not going to bet on that.
"It might be next week before we get the all-clear," he said.
The city has been using connections to Spokane's water, from the Rathdrum Prairie Aquifer, to flush its system.
The Department of Corrections planned to empty a large water tank it has at the Airway Heights Correction Center, where more than 2,000 people can be incarcerated, and refill it with uncontaminated water.
Until there's an indication that the water is clear again, thousands of people have been getting cases of bottled water to cook with and drink at home, stopping at a distribution location behind Yoke's Fresh Market.
While the Air Force performed the initial well sampling for Airway Heights, the costs of follow-up sampling, and possibly of other fixes, will fall to the city.
Anderson said he hopes that the Air Force sees this as their problem as well, and helps with the cost of installing filtration, if it turns out it is needed, at the city's wells.
That could come down to a question of whether helping the city implies accepting responsibility. The Air Force has noted that it is not known if the contamination found in the city's wells came from the base or not.
samanthaw@inlander.com