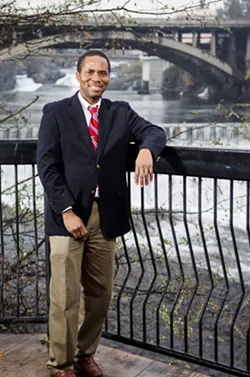 When Spokane public defender Francis Adewale first arrived in the United States — and eventually in Spokane — from his home country of Nigeria, his image of America was rocked.
"I never believed that people in America would be living under bridges," Adewale says. "The image of America is prosperity. So when I came here and saw that my clients were on the streets, I really put my heart into this."
Adewale is one of the leaders of the city of Spokane's innovative
Community Court
, which handles quality-of-life crimes and
pushes people toward services and away from jail
.
Adewale also runs a free legal clinic in Spokane Valley, and tonight he's being honored for his work with the President's Award from the Washington Association of Criminal Defense Lawyers.
The award is given for "achievement in a particular case or series of related cases, or long-time service to the criminal defense bar," according to a news release from the association.
"Francis' professional and personal life has been dedicated to community outreach to the poorest and most disadvantaged people in our communities," says Kathy Knox, who runs the city's public defender office. "And he is well-deserving of this award."
In a phone conversation ahead of the ceremony in Chelan, Washington, Adewale tells the story of his move to the U.S. Almost on a whim, a friend entered him in the application lottery for a green card. He moved here without knowing a soul.
After living in Washington, D.C., for a couple of years, Adewale took a job with the city's public defender office in Spokane. He won his first six trials, he jokes, in spite of his heavy African accent.
"Jurors were willing to give me a chance," he says. "I had DUI cases, domestic violence cases, and my accent then wasn't as good as it is now. But jurors were willing to take time and listen to me, and give me a chance to make an argument for my client."
That patience, he says, was heartening, and since 2013, he has worked closely in a team made of prosecutors, defense attorneys and judges to shape the Community Court, which has become a model for other cities.
Recently, the city announced the therapeutic court will
expand into other neighborhoods
. The court currently handles crimes in the downtown core.
In 2013, Adewale received the first City of Spokane Human Rights Award. In addition to Community Court, he's established the American Law and Justice Workshop to help educate immigrants about the U.S. legal system, and has served on multiple committees within the Washington State Bar Association and the Washington Supreme Court. He's also on the
Governor's Statewide Reentry Council
, which helps former inmates transition back into the community.
"What I'm doing now [in Community Court] is a lot tougher than going to trial," Adewale says. "I'm looking people in the eye and telling them they need to change their lives completely. Some of them have never lived in a home."