ON INLANDER.COM
NEWS:
A group called Safer Spokane that's pushing to charge a fine for coal and oil cars that travel by train through the city without meeting certain standards
turned in 5,200 signatures
to Spokane City Hall yesterday, meaning there's a good chance that its ballot initiative, Proposition 6, will be voted on in November.

IN OTHER NEWS
What happens when a 73-win team adds Kevin Durant
One year after giving up a 3-1 series lead and losing the NBA Finals, the Golden State Warriors finished off the Cleveland Cavaliers last night in Game 5 to reclaim the title. Golden State's newest addition, Kevin Durant, was Finals MVP.
Sports Illustrated
's Lee Jenkins has a
great breakdown
of how the Warriors' Draymond Green recruited Durant to the team immediately after last year's Finals loss.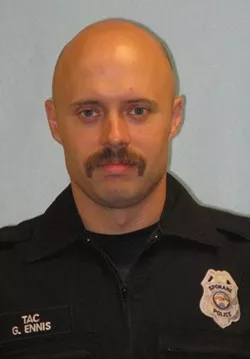 Blame the newspaper
Spokane County Superior Court Judge James Triplet
declared a mistrial
in the rape case against former Spokane police Sgt. Gordon Ennis; his attorney requested the mistrial during the jury selection, apparently because of a
Spokesman-Review
story he considers biased toward the prosecution, according to the newspaper. Other news outlets,
like KXLY
, say the mistrial was declared because it was impossible to seat a jury unfamiliar with the case's details.
False promise?
Community Health Systems, owner of Deaconess and Valley hospitals, promised to meet or exceed the average level of hospital charity care spending in Eastern Washington, but has failed to meet that promise,
according to a lawsuit filed by the Empire Health Foundation
. The lawsuit accused CHS, which is in the process of selling both hospitals, of not providing $110 million worth of charity care promised to low-income patients. (
Spokesman-Review
)

Quiet down, Coeur d'Alene!
If there's one thing you'll notice in downtown Coeur d'Alene, it's that people really love driving loud vehicles. The CdA Press says
a city ordinance will try to quiet those cars
, targeting "tricked-out cars, pickup trucks and motorcycles that spew smoke and noise just for the fun of it."
Not so special
After President Trump said he was considering dismissing special counsel Robert Mueller, the former FBI director appointed to oversee the investigation of the Trump campaign's connection to Russia, Deputy Attorney General Rod Rosenstein says there is
no basis to fire Mueller
, and that he's the only person who could do so. (
Associated Press
)